After NY Gov Blames Trump For COVID Reponse – Donald Turns The Tables On Him
At a time like this, all Americans need to work together and support each other. But apparently, many Democrats are up to their old tricks.
With entire cities bracing for the worst, many liberals are focused on blaming Trump for this situation, even though he responded quickly by shutting down the border.
And Andrew Cuomo, Governor of New York, has been piling on, criticizing Trump frequently during this crisis.
He reportedly demanded the president to "treat all states the same." Even though we know each state is facing different challenges.
So, Trump put the governor in his place.
From Twitter: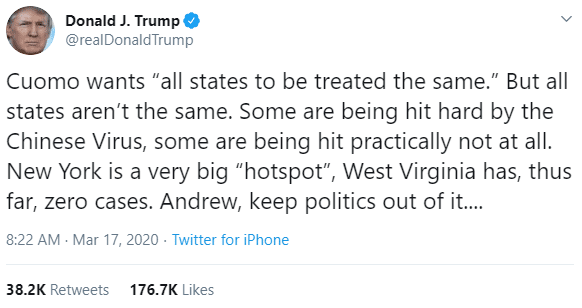 Cuomo wants "all states to be treated the same." But all states aren't the same. Some are being hit hard by the Chinese Virus, some are being hit practically not at all. New York is a very big "hotspot", West Virginia has, thus far, zero cases. Andrew, keep politics out of it….
President Trump called out Cuomo's statements, saying all states aren't the same. Some states, like California and New York, are getting hit much harder by this virus.
Some don't even have five patients.
That means the president needs to direct aid and attention to where the virus is doing the most damage.
Ultimately, that means some states will be treated differently. That's the reality. A state with few infections won't need the same help as others.
But Trump seems to suggest the Cuomo, like many others, is using this crisis to push politics.
The president called on him and the rest of the country to keep politics out of this.
What we need is for every leader to band together for the good of our country.
Democrats need to stop their petty bickering, in order to coordinate with Trump. Both state and federal leaders need to step up, so that this situation ends as soon as possible.
So far, we are seeing some politics set aside. California's governor praised and thanked Trump. Even Cuomo seems to be coming around, recently thanking the administration for their prompt responses.
Maybe the Democrats are coming to their sense? Let's see how long it'll last.
SHARE to tell Democrats to work with Trump, not against him!
Source: Twitter