Devin Nunes Catches Schiff In The Act – He Broke House Rules, Withheld Information On Whistleblower, And Exposed His "Impeachment Farce"
Shifty Schiff thought he got away with it – here comes Nunes!
Rep. Adam Schiff got in big, big trouble recently and it was the New York Times that outed him.
The newspaper revealed that Schiff's office was in contact with the whistleblower, whose complaint pushed Democrats to support impeachment.
Apparently, this person contacted them before the news of the complaint came out.
Why is this a problem? Because from the start, Schiff told everyone that he knew nothing about this complaint. And that the whistleblower never made contact with him before the news was released.
This casts doubt on everything the Left is doing. And Devin Nunes exposed Schiff over it.
From Twitter: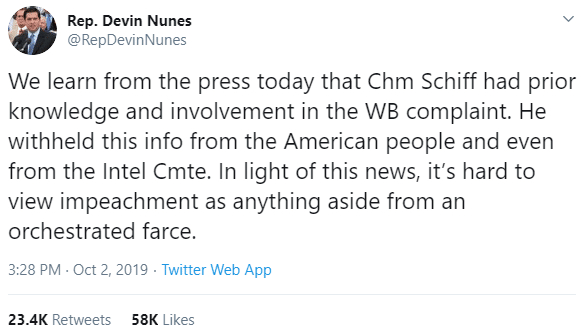 "We learn from the press today that Chm Schiff had prior knowledge and involvement in the WB complaint. He withheld this info from the American people and even from the Intel Cmte. In light of this news, it's hard to view impeachment as anything aside from an orchestrated farce."
Nunes calls out Schiff's dishonesty over this whistleblower complaint. Schiff knew about it and may have even been involved in the complaint's crafting.
Yet he withheld this information from the American people and the intelligence community. That's a seriously wrong thing to do.
And it casts more fuel on the suspicious this entire impeachment push was orchestrated by Democrats.
We all know Democrats have been looking for a reason to impeach Donald Trump. Is it really so hard to believe they'd cook all this up just to get him?
Donald Trump thinks so. He's been calling out Schiff for a while now. He accused the congressman of helping write the complaint.
The president wants Schiff removed from the House Intelligence Committee, to resign, and finally be investigated.
He even posted a poll showing many Americans feel the same way.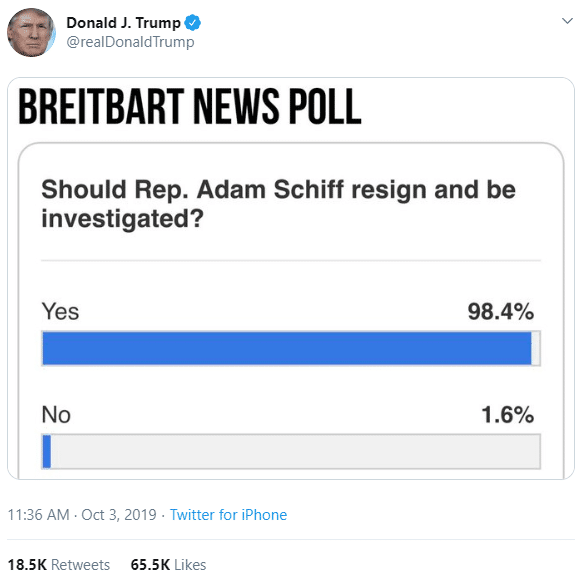 Wow, 98%. That is some overwhelming results! I'm sure even a few Democrats want Schiff held accountable for his dishonesty.
SHARE if you want Adam Schiff to resign and face investigation!