After Northam Caught Maskless In Public, He Announces New Rule You Have To Follow
In most areas in the U.S. face masks are NOT mandatory.
It's merely recommended in most cases, though some businesses haven't allowed people inside unless they're wearing a mask.
However, that's not enough for Virginia Governor Ralph Northam.
Northam, who has come under fire for his strict response to the current pandemic, is taking a questionable step to combat the spread of the virus.
He has decided that face masks need to be mandatory for all Virginia residents … though ironically, this happened not long after he went maskless in public.
First, here's the edict (from Breitbart):
Virginia Gov. Ralph Northam (D) announced Tuesday that residents will be required to wear a mask inside public places beginning Friday as part of an effort to combat further spread of the Chinese coronavirus.
Northam said people have to wear masks anywhere they're "congregate." This includes retail places, government facilities, and public transportation.
They'll even have to wear them in restaurants, except when patrons are eating. How the heck is THAT going to work, anyway?
And all this, after Northam got caught posing for a maskless selfie with a woman: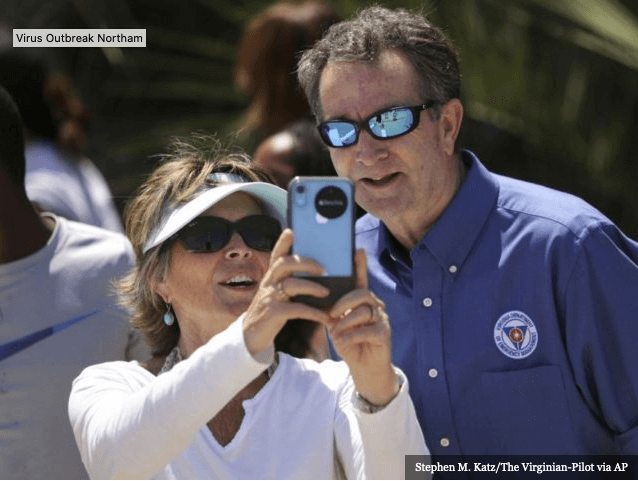 What is this, a "do as I say but not as I do" situation?
Well, Northam said he takes "fully responsibility" for forgetting his mask, but it still happened. How many other times did he forget his mask in public?
The Governor says this mask mandate won't be enforced by police; instead, it'll be enforced by the state health department.
Maybe that's good news. But the bad news is that another Democrat governor appears to be overreacting.
Demanding that masks be mandatory? For how long? And how is the health department going to enforce it?
And I'll be interested to see if we can catch Northam without a mask in public in coming weeks. Do you think it will happen?
SHARE if you think Governor Northam's mask rule is a step too far!