NFL To Play "Black National Anthem" Before Week 1 Games – Then Former Star Burgess Owens Rips Into The League
The NFL is about ready to begin playing games again. But it won't be without controversy.
And this controversy doesn't involve the typical health concerns (ala coronavirus). Instead, there's a larger political issue that's turning heads.
According to recent reports, the league has opted to play "Lift Ev'ry Voice and Sing," which has been labeled as the "Black national anthem."
It isn't clear if they intend to replace the National Anthem with this new song, or if they plan to play both.
Regardless, former NFL star and frequent critic of the left Burgess Owens doesn't like the move.
Upon hearing about it, he wrote on Twitter: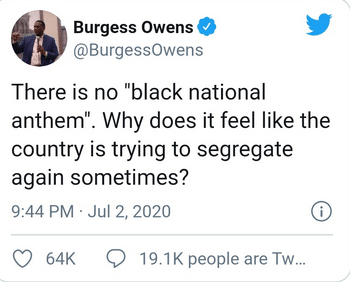 There is no 'black national anthem.'

Why does it feel like the country is trying to segregate again sometimes?
Owens just won a Republican primary for a U.S. House of Representatives seat in Utah's fourth congressional district.
Therefore, it's likely his fellow GOP members will support his statement. Though it's unlikely NFL representatives will.
The league has pledged $250 million in donations for "social justice" causes over the next decade.
These decisions come in the wake of the George Floyd incident, which has prompted many major corporations around the country to make similar moves toward "social justice."
But Owens believes a "black national anthem" only further divides the country. And Senator Ted Cruz (R-TX) agrees: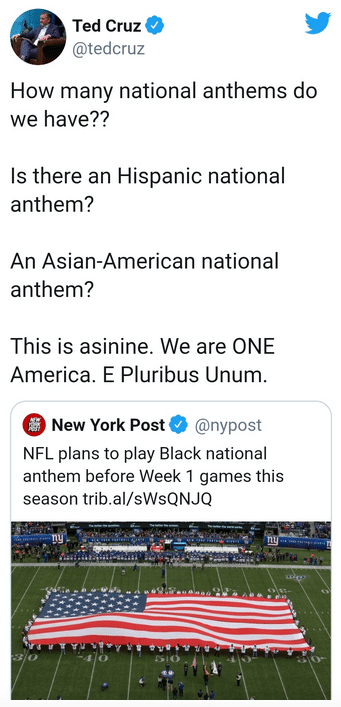 How many national anthems do we have?? Is there an Hispanic national anthem? An Asian-American national anthem?

This is asinine. We are ONE America. E Pluribus Unum.
The controversy over Black Lives Matter vs. All Lives Matter continues to rage.
One side believes continually promoting one racial group above another is just flat-out racism. While the other side believes it's merely calling out a lingering social divide.
As for the NFL, we'll have to see if this decision has any impact on TV ratings.
Key Takeaways:
The NFL has reportedly decided to play the "Black national anthem" before its Week 1 games.
Former star and current GOP Rep. Burgess Owens slammed the decision, saying "there is no 'black national anthem.'"
Senator Ted Cruz agreed, saying "We are ONE America. E Pluribus Unum."
Source: The Daily Wire