Hours After Gov. Newsom Enacts California Order – "Curfew Crashers" In 16 Cities Flood The Golden State Streets
Governors across the country are reacting to the fresh surge in coronavirus cases, which has resulted in more social distancing recommendations and face mask crackdowns.
In some cases, political leaders have rolled back their reopening plans and have issued social gathering mandates. For instance, no more than 10 people at a Thanksgiving party.
But even that isn't strict enough in the eyes of some governors.
Take California Gov. Gavin Newsom, for example — he recently passed a "stay-at-home" order that functions as a statewide curfew.
It says people have to stay home after 10 p.m., the latest attempt to stem the rising tide of new infections. But clearly, it's the sort of rule that affects millions in a variety of ways.
And some Golden State residents aren't too pleased with the order.
In fact, thousands have organized protests in defiance of Newsom's curfew, and these protesters have fittingly called themselves "Curfew Crashers."
Said Syndie Ly, one of the protest organizers (via Breitbart):
Governor Newsom's sweeping edicts by moving 95 percent of California to purple tier and a curfew is an abuse of power.

We are all responsible adults so we can make our individual choices.

This movement is about us rising up for our freedom and against Governor Newsom's overreaching edicts.
One protester, Nancy Vu-Kerr, stated that Newsom's order is "tyrannical" and qualifies as "government overreach." She added, "our freedoms are truly at risk."
Hundreds of irate citizens flooded the streets in Huntington Beach as well, and some of that was caught on camera:
Huntington Beach,California is still supporting our President Donald Trump 🇺🇸💪 pic.twitter.com/umJOwEmX7e

— Jolanta Jemiola-YOLA (@JJemiola) November 22, 2020
Protesters flew Trump/Pence flags and "Open Up California" banners, and generally railed against Gov. Newsom's edict. To these citizens, this Democrat governor has one again too far.
Rick Brown, who handled the successful campaign of Tito Ortiz for Huntington Beach City Council, said that for the most part, people just aren't going to lie down for this:
The event last night was over 1,000 patriots pushing back against the undeclared 'martial law' coming from Gavin Newsom, who had the audacity to declare all Californians be indoors by 10 p.m.

Well guess what?  We will NOT play in his sandbox anymore.
More "Curfew Crasher" protests are scheduled to take place in 16 cites around California, according to organizers.
This includes Yorba Linda, Temecula, Riverside, Patterson, Sacramento, San Diego, Beverly Hills, Brentwood, and more.
Organizers are telling all residents they're welcome to attend any of these events, "if you are a free American" and you stand against Newsom's stay-at-home order.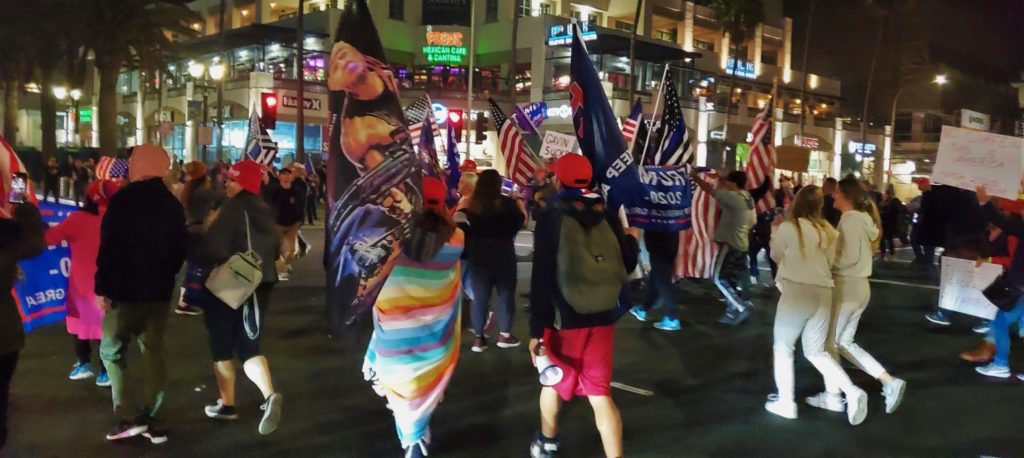 Whether or not this will have any impact on the governor's mandate remains to be seen. Newsom hasn't yet responded to these "Curfew Crashers."
As it stands, however, there are obviously many annoyed residents in California, and they're not about to be silent. If other governors pass similar orders, expect to see similar reactions.
Once again, we face the difficult question of passing rules for the sake of public safety vs. personal freedoms.
And the debate isn't likely to end even after the pandemic is over, either.
Key Takeaways:
Thousands of protesters in California are protesting Gov. Gavin Newsom's new stay-at-home order. They call themselves "Curfew Crashers."
These citizens claim Newsom is abusing his authority, and were seen flying "Open Up California" and Trump/Pence banners.
Governors who pass similarly strict mandates could also face pushback from residents.
Source: Breitbart