After Pelosi Gloats Over Trump Indictment – The Former Speaker Gets Humiliated by Fact-Checkers
What's Happening:
On Thursday evening this week, Democrat DA Bragg made good on his threats and issued an indictment against Donald Trump. We've known about this scandal for weeks. Democrats have mustered up accusations against the former president, in what many are calling a political attack.
The official charges are currently sealed, so nobody can comment on them properly. That didn't stop Nancy Pelosi, former Speaker of the House, to spew her opinion. Trying to sound democratic and patriotic, she issued a shocking statement against Donald Trump.
From Daily Wire:
In reaction to Manhattan Alvin Bragg indicting former President Donald Trump, Pelosi tweeted: "The Grand Jury has acted upon the facts and the law. No one is above the law, and everyone has the right to a trial to prove innocence. Hopefully, the former President will peacefully respect the system, which grants him that right."
Really, Nance? We have to "prove" our innocence. Funny, I think I heard something somewhere that said we are innocent until proven guilty. Oh yeah, the Constitution. Pelosi showed the left's hand on this one. This isn't about "justice" or the rule of law. Democrats have branded Trump "guilty."
It doesn't matter what the charges are. They could be about Stormy Daniels. They could be about J-walking. Democrats long ago decided they were going to wrongfully accuse Trump of something.
But before old Nance could do a victory lap, users on Twitter quickly put her in her place.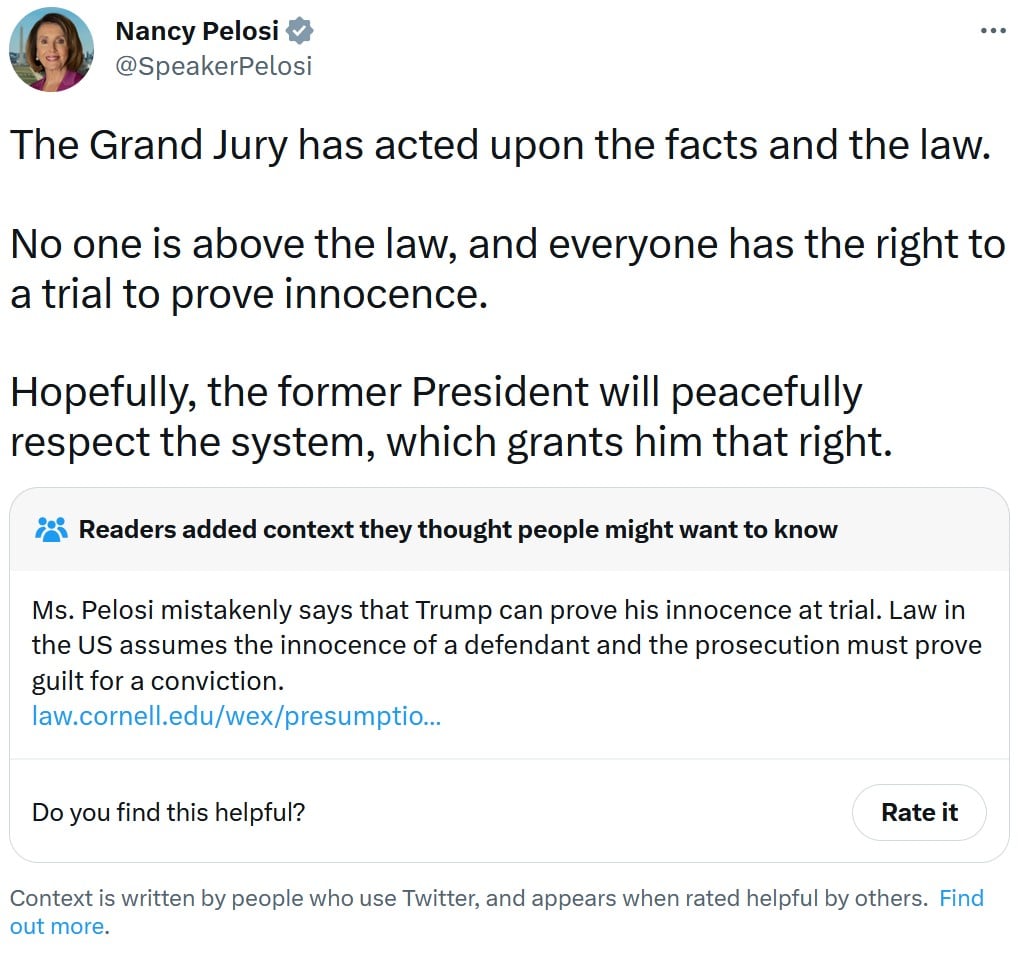 Twitter's Community Notes tool fact-checked Pelosi's wild statement. The community rightly pointed out that everyone is innocent under the law. It is the DA's job to try to prove Trump is guilty of whatever he is claiming.
In the past, Democrats might have gotten away with this kind of dishonest statement. But thanks to Elon Musk, Twitter's fact-checking tools are holding Democrats accountable as much as everyone else.
That doesn't change the fact that Pelosi and Democrats are pushing the idea that we are guilty until proven innocent. She is trying to gaslight Americans (probably young, uninformed Americans) that the system is backward from what it really is.
Pelosi is spreading disinformation, in the hopes that nobody will call her out on it. All so Democrats can run roughshod over our Constitution and steal our democracy.
Key Takeaways:
Nancy Pelosi claimed Trump will have to prove his innocence in court.
This is a deliberately false statement, as citizens are innocent until proven guilty.
Twitter fact-checkers quickly exposed Pelosi's dishonest tweet.
Source: Daily Wire, Twitter