Moments After President Trump Lands In Florida – Donald Is Met By A Large Crowd Of Trump Supporters
What's Happening:
If you believe the media, you'd think Americans are saying "good riddance," to Trump and his family.
Not sure where they're getting that idea—we didn't see too much excitement at Biden's Inauguration.
Despite everything the MSM has said in recent months, you'd be hard-pressed to find Trump supporters suddenly hiding their red hats.
In fact, even after he's left office, Trump can count on the enthusiasm and support of Americans. Check out how he was greeted in Florida when he got home. From Fox News:
Former President Trump received a warm greeting from supporters in South Florida on Wednesday morning as he made his way to his Mar-a-Lago resort after leaving the White House for the last time as the commander-in-chief.

Fans waved flags and held up signs and cell phones in West Palm Beach as they cheered Trump's return to the state, where he plans to spend his immediate post-presidency…

Daniel Rakus of Palm Beach told the Washington Examiner he was there to show Trump "he's not alone. He did a great job. We support him.'"
The media has been pushing a narrative since November that Americans are "done" with Trump.
It's hard to believe that when even Democrats don't seem all that excited about Joe Biden.
The Left can go after conservatives all they want, but few have given up their respect and admiration for Donald Trump.
Despite overwhelming odds and intense opposition, he made good on countless promises. His fight for a second term might have ended in disappointment, but it doesn't seem like MAGA folks are turning their backs on him.
Plenty of people showed up to greet him when he arrived at Mar-a-Lago. Those interviewed said they just wanted to express their appreciation for Trump's leadership.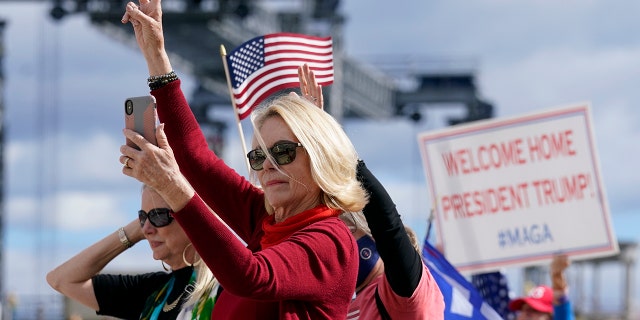 It harkens back to the time Trump was recovering in Walter Reed over his COVID diagnosis. Americans spontaneously showed up, just to cheer him on.
Why would the Left think that would go away, just because Biden's in the White House?
75 million Americans voted for Trump. It doesn't look like they are going away anytime soon.
In four years, who knows what will happen?
Key Takeaways:
Donald Trump traveled to Florida after leaving the White House.
A crowd of supporters was at Mar-a-Largo to greet him.
They said they wanted to thank him for his years of hard work.
Source: Fox News