Michigan Teacher Fired Over Standing Up For Trump – All He Said Was 'Trump Is Our President'
What's Happening:
It's no secret that public school teachers' unions are all-in for the Democrats. In fact, it seems that any teacher who expresses support for Donald Trump or Republicans can quickly face backlash.
On teacher in Michigan was hammered for an overt expression of support for Trump. You'd think he attended a rally or was seen wearing a MAGA hat. Or perhaps he posted a long rant online endorsing the president.
Nope. He just said Trump was our president:
A Michigan school district fired a popular high school teacher and coach after he pointed out that "Trump is our president" on social media…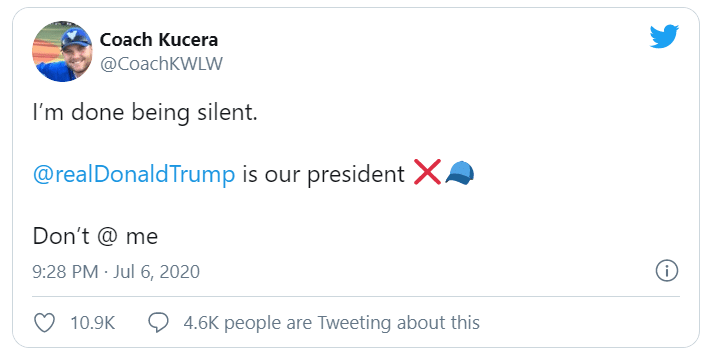 He told the Washington Free Beacon the Walled Lake Western principal and district superintendent gave him an ultimatum: be fired or resign.
The school fired the popular teacher because of four words. He wasn't divisive or trying to start controversy.
He simply stated something that even a preschooler knows. Yet the entrenched, far-left members of that school forced him out.
This is a consistent trend we've seen across industries and jobs. Americans who express even a simple sign of support for Donald Trump are harassed, persecuted, or fired.
They are ostracized in their places of work for simply exercising their First Amendment rights.
The left is determined to stamp out all free expression they disagree with. They fear that Trump has already won the hearts and minds of millions of Americans—so they are fighting to prevent them from speaking out.
It will not get any better in the coming years. Leftists in the media, education, entertainment, and tech industries will try to find new ways of punishing anyone right of center. They will try to keep Americans afraid to speak their minds or lose their livelihoods.
Should a teacher lose his job because he's a Republican? Is that what America has come to? Should a school get away with such a drastic and un-Constitutional action?
Perhaps this teacher should mount a defense. No one should lose their job because they love the president.
Key Takeaways:
A teacher was fired for posting "Trump is our president" on social media.
His school compelled him to resign or be fired for expressing his views.
This is consistent with persecution of conservatives across all industries.
Source: Free Beacon