Melania's Parents Make A SHOCKING Move—Every Immigrant Should Copy Them
Viktor and Amalija Knavs are the proud parents of America's First Lady, and they are now showing their pride in the most patriotic way.
The Knavs are permanent fixtures in their daughter and grandson's lives, frequently accompanying them to Trump Tower in New York, Mar-a-Lago in Florida, and even the White House.
While they still own a home in their native country of Slovenia, they have set down permanent roots in America, and it's clear they have a deep appreciation for our country.
Melania was the first of her family to come to the United States in pursuit of a modeling career. This was a dream she could never achieve while living under communist rule in the former Yugoslavia.
Her parents quickly followed, and became permanent legal residents with green cards.
Their commitment to following our country's immigration laws shows their respect for America. Now, their respect is being rewarded.
From IJR:
"President Donald Trump's in-laws, Viktor and Amalija Knavs, took their oaths of citizenship in New York City. 
Beyond the additional security present at the ceremony, the Knavs followed the same process of tests, interviews, and paperwork that every other citizenship candidate has to complete. 
Their attorney, Michael Wildes, called the couple 'beautiful people' and took a moment to draw attention to the process of legal immigration. "
NEW: First lady Melania Trump's parents, Viktor and Amalija Knavs, have been sworn in as U.S. citizens, their attorney says outside a New York City courthouse today. https://t.co/BIy7Lpczh1 pic.twitter.com/jlG4tRjkJ3

— ABC News (@ABC) August 9, 2018
"The application, the process, the interview was no different than anybody else's other than the security arrangements to facilitate today.
I've had the privilege of coming to this building for more than 30 years working with some of the finest families and individuals […]
This golden experiment, these doors that are in America, remain hinged open to beautiful people as they have today.
They would appreciate their privacy and we just thank everybody for their attention to this very important dialogue that we are having on immigration."
Americans across the nation are praising the Knavs for their patience and commitment to immigrating legally.
They now join their daughter as legal citizens of America.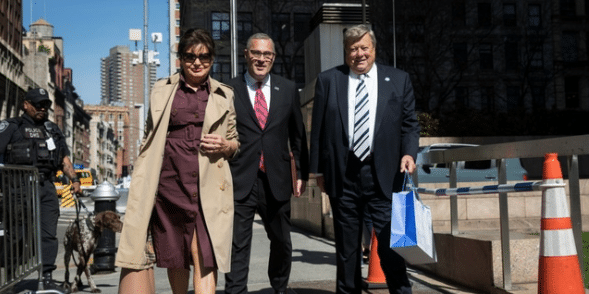 At the RNC Convention in 2016, Melania shared her own path to citizenship.
"On July 28th, 2006, I was very proud to become a citizen of the United States — the greatest privilege on planet Earth.
I cannot, or will not, take the freedoms this country offers for granted."
Liberals will try to defend illegal immigrants, saying the legal process is too hard, or takes too long, or some other lame excuse.
But this just proves that becoming a legal citizen isn't particularly complicated, and it's the right thing to do.
Their inspiring story will hopefully send a message to all immigrants to come to America legally … we've had enough of the illegal flood, right?
Source: IJR