Melania Announces First Move Back To Work, Proves Her Respect For The Military
Despite nasty rumors about Melania Trump's health and involvement in White House matters, the First Lady has returned to work.
The mainstream media can spread all sorts of vicious hearsay and lies, but Melania is quietly going about her business, and the American people appreciate her efforts.
Now, after taking a week off to recover from her surgery, Mrs. Trump is primed and ready to resume her duties.
And she has announced her first major event since her surgery: she will host a reception for Gold Star families on Monday.
Donald and Melania hosted a similar event last year; it's to honor the families of those who have made the ultimate sacrifice for this country.
And as we all know, we have a President and First Lady who aren't about to let such an opportunity pass.
Last year, Melania called Gold Star families a "unique and distinct category" of proud individuals who should be "cherished" by U.S. citizens.
"These families have endured the ultimate in pain and sacrifice on behalf of our country, and I am honored to have spent the evening with them," she added.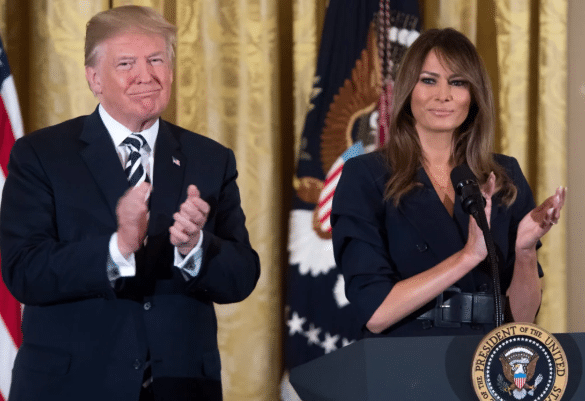 On May 14, the First Lady underwent surgery to treat a benign kidney condition. After which, during her recovery, the press decided to invent horrid rumors about her "true" health.
They also found ways to slam her husband (because they can always find ways to do that), but in fact, Melania was simply recovering behind the scenes.
As Melania's spokeswoman Stephanie Grisham said in a statement:
"Our office has received thousands of calls and emails wishing Mrs. Trump well, and we thank everyone who has taken the time to reach out."
And now that the First Lady has fully recovered, she's going to return to doing exactly what she was doing before:
Acting like the classy, respectful, and proud woman that Americans have come to love in the past year and a half.
Sources: Independent Journal Review, The Hill