After Media Claims Trump Is In 'White House Isolation' – Donald Sets The Record Straight: "Packed With Meetings"
In addition to protecting our country, President Trump has the unpleasant job of constantly correcting the media.
They just seem incapable of reporting the news accurately. Even during a crisis, some reporters go out of their way to make the White House look bad.
The president and his team of experts are working around the clock to address the problem. But some in the MSM claimed Trump has been "isolated" in the White House.
Really? Are they not paying attention to his daily briefings?
In fact, Trump himself had to set the record straight.
From Twitter: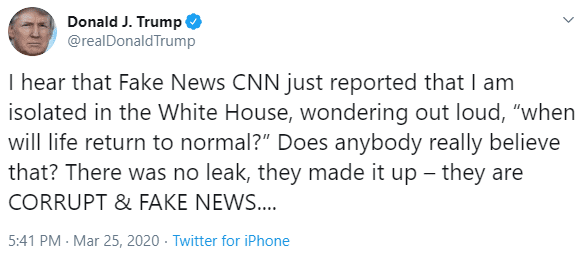 I hear that Fake News CNN just reported that I am isolated in the White House, wondering out loud, "when will life return to normal?" Does anybody really believe that? There was no leak, they made it up – they are CORRUPT & FAKE NEWS….

….I have been packed all day with meetings, I have no time for stupidity. We're working around the clock to KEEP AMERICA SAFE!
Trump called out CNN for claiming he was just sitting around in the White House, doing nothing.
Are they that dishonest? Even on a good day, the President of the United States is super busy.
Right now? Oh dang, he must get barely enough hours of sleep each night.
He said their story was no "leak," but they made it up. Furthermore, he called CNN "corrupt and fake news."
Then he made it clear that his days are "packed" with meetings.
Yeah, I would assume so. Every member of his task force has said at one time or another how they constantly meet and advise the president.
He is on calls with governors, doctors, relief workers, and government agencies. He probably is too busy to even have dinner with his wife.
Even liberal governors have praised Trump's response to this crisis.
Why would anybody believe the nonsense that Trump is just sitting around alone? Are CNN viewers really that gullible?
Or does the news network really think that little of us?
President Trump is putting forward a confident and optimistic attitude, during this war. He is working tirelessly to make sure we are safe—and to make sure our economy one day comes roaring back.
Meanwhile, he's got to deal with the media making up stories and the Democrats trying to stop him from helping America.
SHARE to show America how hard Trump is working for us.
Source: Twitter