Media Silent On Special Election Flipped Seat – So President Trump Blasts Out Double-Digit Republican Victory
There was an important, special election this week. Did you hear about it?
Of course not, because the mainstream media apparently decided you didn't need to know.
If a Democrat flipped a Republican seat, they would have blasted the news across the Internet, right?
It would have been trending on every website as a sign that Trump was doomed in November.
Instead, it turns out a Republican got a big win.
From WMKY:
Richard White has won the special election in Rowan County for the vacant 99th district Kentucky House Seat.

White will replace longtime Representative Rocky Adkins, who resigned his seat when appointed as Senior Advisor to Governor Andy Beshear.
Richard White won a special election in Rowan County, to replace Democrat Rocky Adkins.
Why is this so significant? The seat has been held by a Democrat for over 33 years. Democrats in the district outnumber registered Republicans by double digits.
Yet these Democrats came out in support… for a Trump-backing conservative.
Ouch, Democratic establishment, that's gotta hurt.
Because the media wasn't talking about it, Trump spread the good news.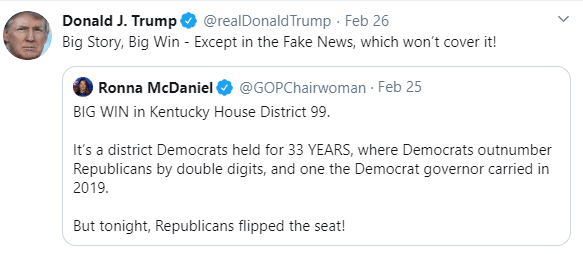 Hmm… I wonder why a district comprised mostly of Democrats would elect a Republican to office?
Did all the Democrats sit this one out? Probably not. Considering the numbers, they could have easily elected a Democrat to the seat.
No, this victory suggests that both Republicans and Democrats are getting behind Trump's GOP.
They are seeing Trump score one win after another for the country. Meanwhile, the DNC is pushing radical socialists to the front of their party.
It seems like regular Democrats are saying, "No thanks."
SHARE to tell everyone about this big win!