After McCarthy Creates 'China Task Force' – Democrats Fall Through Again, Pull Out One Day Before
House Minority Leader Kevin McCarthy is demanding answers from the Chinese government, and he wanted help from both sides of the aisle.
McCarthy created a special "China Task Force" months ago to investigate "direct threats from the Chinese Communist Party."
Here are just a few of his accusations:
Hid the severity of the virus and manipulated statistics, leaving the world reeling from a global pandemic
Still refuses to allow international experts to investigate or share viral samples with the scientific community
Forced the disappearance of whistleblowers
Is carrying out a comprehensive propaganda campaign to spread misinformation
Leveraged its supply chain monopoly for global influence
These appear to be perfectly legitimate issues, right?
This isn't about attacking another country or being biased — it's about an investigation to arrive at the truth.
But apparently, Democrats aren't interested in that truth.
According to The Washington Post (via The Daily Caller):
Democrats were set to join the task force, but on February 24, the day before the launch and as the coronavirus was spreading around the world, the Democrats 'bailed on the project.'
McCarthy had hoped this would be a bipartisan effort. But clearly, Democrats just aren't interested in the task force.
Maybe Washington Post columnist Josh Rogin said it best: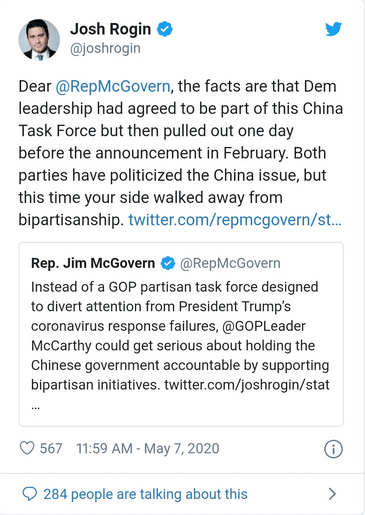 …the facts are that Dem leadership had agreed to be part of this China Task Force but then pulled out one day before the announcement in February.

Both parties have politicized the China issue, but this time your side walked away from bipartisanship.
Why does it seem like Democrats are running away from answers? Why don't they also want the truth?
The American public certainly deserves to know what's going on in China. And for the sake of our country's safety, maybe we NEED to know.
Wouldn't you agree?
SHARE if you think Democrats are more interested in protecting China than the United States!
Source: The Daily Wire