Betting Markets Just Gave America The 2024 Lineup – The Republican Field Is Now Led By Donald Trump
What's Happening:
The 2024 election might be years away, but plenty of people are speculating on it.
We shouldn't be surprised that some Americans can't wait for Joe Biden's term to be over.
But who will take the GOP's top spot to challenge him?
Many have hoped Trump would come back. Others are throwing around the names of several popular Republican leaders, including senators and governors.
Now a popular site is gauging Americans' views. And guess who is leading the pack?
From PredictIt: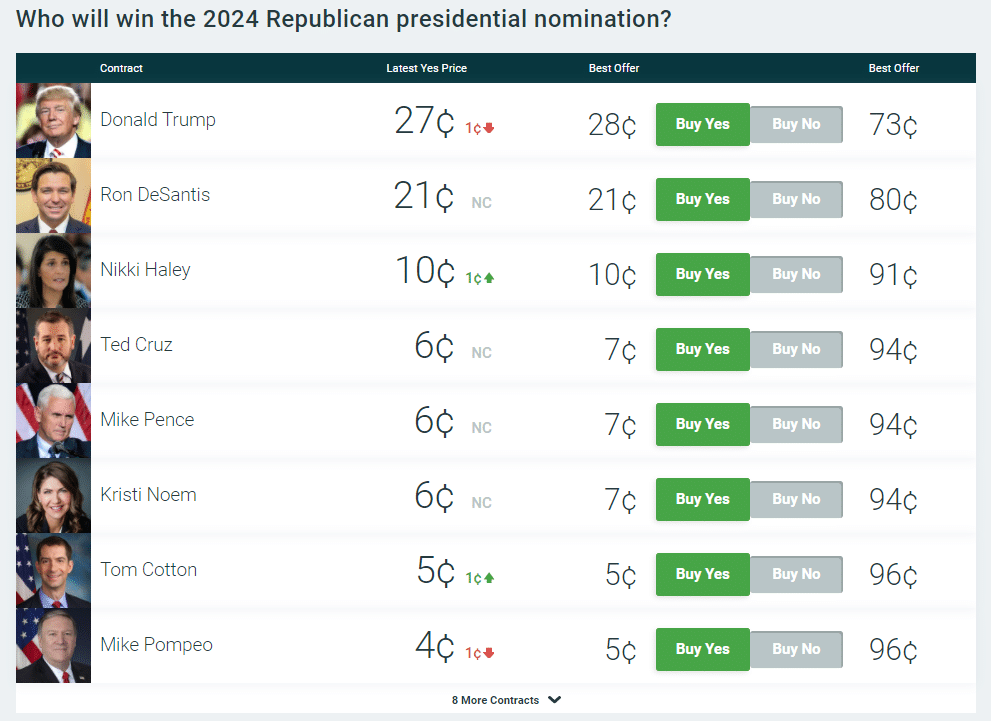 When asked who will be the GOP candidate for 2024, the website puts Donald Trump at the very top.
Following him closely is Ron DeSantis, the Florida governor who continues to impress the country.
Nobody else is even close. The next name is Nikki Haley, who star has fallen ever since she turned on Trump.
(She tried to win back favor by requesting a visit to Mar-A-Largo, but was denied.)
There is no way to tell, right now, how 2024 will shape up. But these kinds of polls indicate the current political climate.
Democrats are asleep at the wheel, in denial of how badly their man is doing. But conservatives appear as fired up as ever before to retake the country.
The next big battle is 2022, when Republicans hope to flip Congress. If they are successful, there is a good shot the White House is next.
Do you think Trump can beat Biden in 2024?
Key Takeaways:
Prediction site has Donald Trump as the odd's-on favorite to win the GOP nomination.
Many have speculated who would take the reins in 2024.
Joe Biden continues to fail, raising hopes of a red wave.
Source: PredictIt