Man Married 67 Years Can't See His Wife In Nursing Home – So He Holds Up Anniversary Sign To Her
Here is a story that is both heartbreaking and heartwarming – it made my day!
The coronavirus has been affecting nearly every last American. Restrictions set by the government and state officials have made it very hard for some people to go about their lives.
One man would visit his wife every day in the nursing home. But in Connecticut (and in many other places), they've restricted visitations out of fear of spread.
The problem? It was their 67th wedding anniversary. And he couldn't see his wife.
So, this man made the most of the situation, so that his bride would not be forgotten.
From Daily Caller:
The Connecticut husband, Bob Shellard, would visit his wife every day in her nursing home before Democratic Connecticut Gov. Ned Lamont banned visitors from entering nursing homes for 30 days due to the coronavirus pandemic, according to NBC Connecticut.

So on the couples' 67th wedding anniversary on Saturday, Shellard stood outside his wife Nancy's window holding a sign that said "I've loved you 67 years and still do. Happy Anniversary."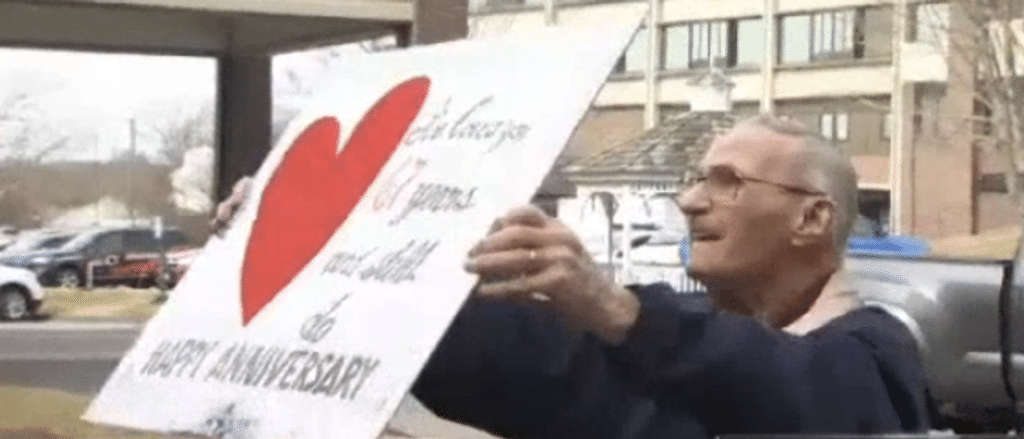 The husband stood outside the hospital and in true romantic fashion, held up a sign for her to see.
The message read, "I've loved you 67 years and still do. Happy Anniversary."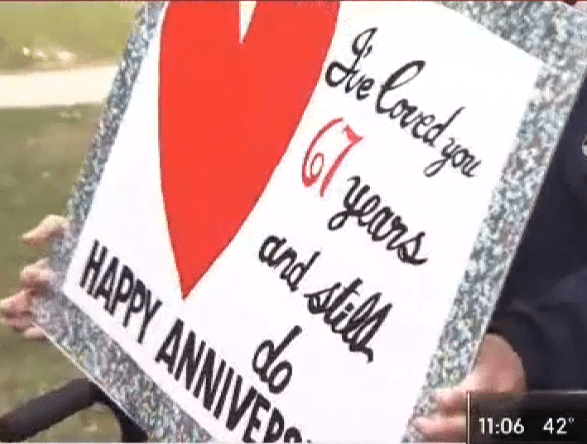 It must have torn up this man not to be able to see his wife on their anniversary. Imagine the pain and frustration.
But he was doing the right thing by listening to local officials. He didn't want his wife to contract the virus.
To make sure she felt his love, he held up his sign.
This virus outbreak is frustrating and nerve-wracking. There won't be a single American unaffected in the coming weeks/months.
But maybe we can learn from this man, and make sure our loved ones aren't forgotten.
During this difficult time, SHARE this to encourage your friends and family today!
Source: Daily Caller