Lindsey Graham Drops Impeachment Hammer – Demands Evidence On Bidens, Obama Officials And Ukraine
Lindsey finally steps up – and sends top Democrats scrambling!
After long last, Adam Schiff's kangaroo court has come to an end. His impeachment hearings are over.
And we wait to see if House Democrats will impeach Trump.
Also many are eager to do so, it's still uncertain if Democrats will seal their fate and vote to impeach.
But if they do, Republicans in the Senate are not sleeping. A trial will be held in the Senate to decide if Trump should be removed from office.
While that would be a long shot, Republicans will not pass up this opportunity to get some cold, hard facts.
And Sen. Lindsey Graham has already asked for what he wants to investigate.
From Twitter: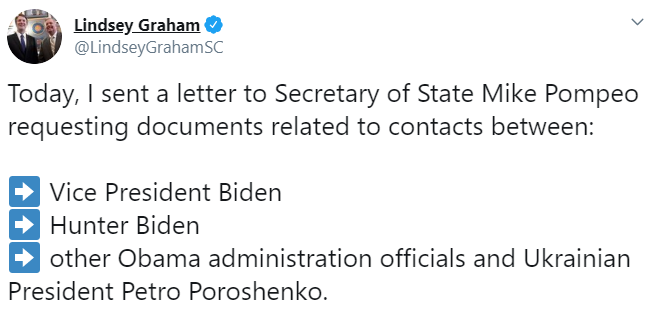 Today, I sent a letter to Secretary of State Mike Pompeo requesting documents related to contacts between:

Vice President Biden
Hunter Biden
other Obama administration officials and Ukrainian President Petro Poroshenko.

My letter to Secretary Pompeo and the request for information is available online.
Woah. Sen. Graham wrote to Secretary of State Pompeo, requesting documents related to some major figures.
Namely, he wants information about Vice President Joe Biden, his son Hunter Biden, and any Obama officials who were connected to the former Ukrainian president.
We know that this entire impeachment charade started because of something Joe Biden did.
He pressured Ukraine to fire a top prosecutor, or risk losing $1 billion in U.S. aid. They did fire the man.
What we later found out was that man was investigating a Ukrainian company that was paying Hunter Biden $50,000/month.
Conflict of interest? I'd say so!
Trump wanted to get to the bottom of this case. For that, House Democrats are trying to impeach him.
Lindsey Graham still wants answers. The list of people he mentioned reveals that he wants to find out what the Obama administration was up to, when Biden was negotiating with Ukraine.
He probably wants to know if Obama and other officials were aware of Biden's conflict of interest. Did they know he wanted fired a man who jeopardized his son's job?
Was the administration okay with this?
There's much more we can discover, if Graham gets the documents he's requesting.
Democrats just might regret going all the way to impeach Trump.
SHARE if you want Lindsey Graham to blow this charade wide open!
Source: Twitter