Kamala Hands Out Eye-Raising Cookies To Reporters – They're In The Shape Of The Vice-President's Faceless Head
What's Happening:
How vain is Kamala Harris? Well, not long ago, she and her staff were outraged over the picture Vogue used on their cover.
Apparently, it wasn't "professional" enough. Hey, she was the one who wore sneakers to a photoshoot.
But that is just the tip of the iceberg for a Democrat who is apparently all appearances, zero substance.
The media is making much of her visit to Central America this week. Nothing good has come out so far.
Except, perhaps, this little weird episode. Before leaving, she handed out cookies to reporters.
Odd enough, right? But wait—they were of her head, minus the face.
Fox News: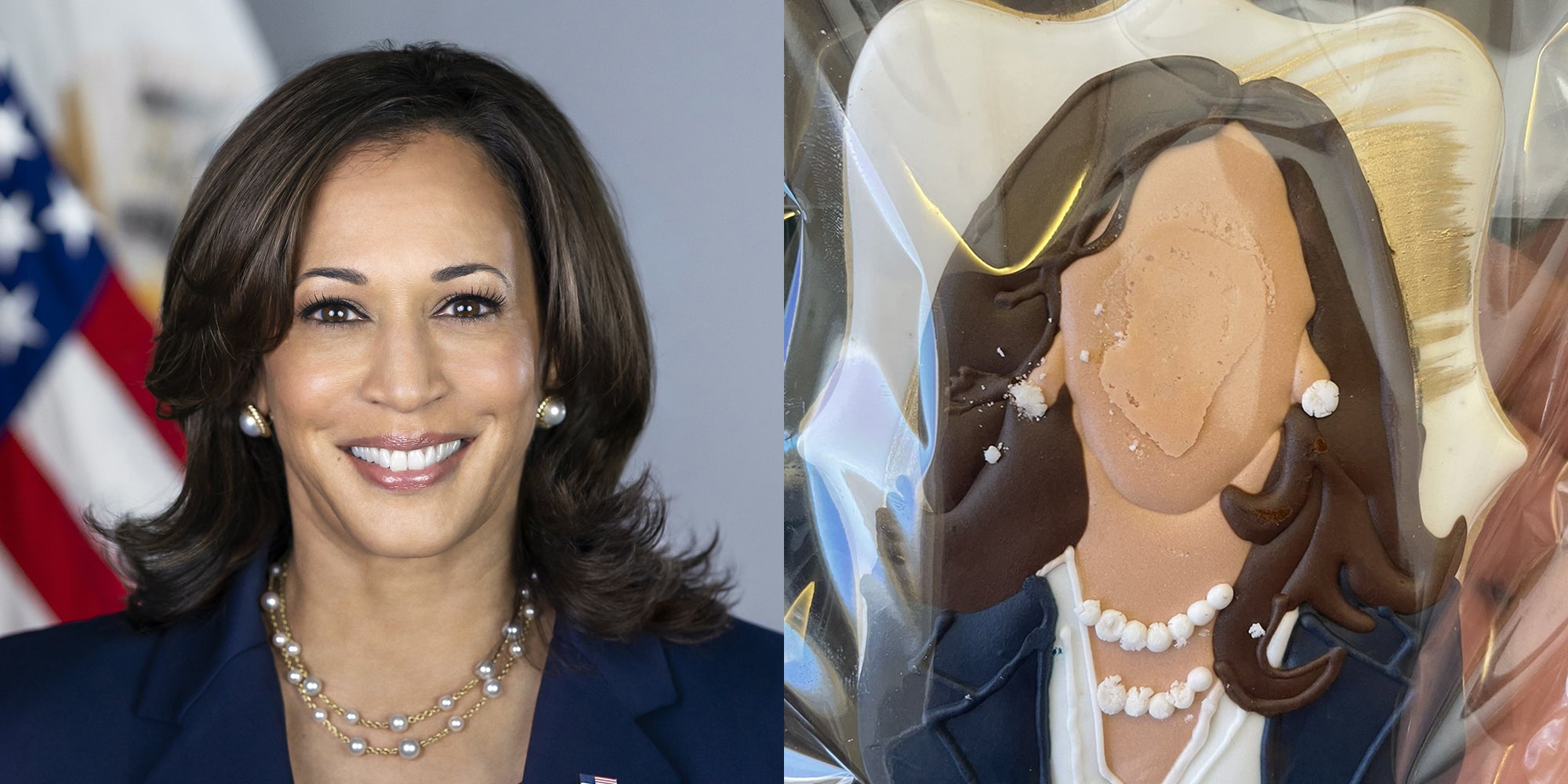 Users on Twitter roasted Vice President Harris for passing out cookies made in her likeness to reporters on a plane while traveling to meet with the president of Guatemala…

In the tail section of Air Force 2, though, Harris handed out cookies in her likeness, made in the style of her official White House portrait…

"Handing out cookies with her face on them as the border crisis rages…," McDaniel wrote. "The modern-day equivalent of 'let them eat cake.'"
Uh… what can you say about a politician so in love with herself, she hands out cookies of her head to reporters.
If you happen to see photos of the cookies, it looks as if there may have been plans to put her face on them. But maybe they didn't come out right, and they left the heads blank?
(Leaving a smudge of dough to cover up possible mistakes?)
Hey, we can't have Kamala getting upset that the cookie made in her likeness has weird eyes or something. So, we'll just give out faceless ones!
Is that super creepy or super egotistical? We can't really decide.
Some desperate Democrats tried to defend the odd flex by saying the cookies were donated by a black-owned business.
That makes it even worse. Are these people saying this bakery can't put faces on their cookies? Sounds a little insulting to me.
But that's beside the point. The point being that Harris, the "vice president," handed out cookies of herself to reporters.
Imagine if Mike Pence did that. Everyone would be freaked out. It's beyond odd. It's disturbing and downright morbid.
This is also a pretty fitting illustration of this administration. They are so sloppy, so lazy, they can't get anything done.
Like a faceless cookie, only half-finished.
All I can say is, I hope nobody ate them.
Key Takeaways:
Kamala Harris handed out cookies of her faceless head to reporters on Air Force Two.
Users online ridiculed the odd move, speculating on the motive.
Harris has a history of exposing her vanity and self-centeredness.
Source: Fox News