Federal Judge Declares Major Verdict On Trump DNC Case – It Is "Entirely Divorced From The Facts"
They went after Donald – and now the historic decision is in.
The Democrats keep trying to pin Russian conspiracy crimes on our President.
And they just keep failing.
The Robert Mueller hearings provided nothing leftist politicians could use to go after Trump, and now they've suffered another defeat.
A while back, the Democratic National Committee (DNC) sued members of Trump's campaign over WikiLeaks hacked DNC documents.
Basically, Democrats claimed that Trump's team meetings with Russian officials  proved the team was conspiring to "steal and disseminate the DNC's materials."
But federal judge John Koeltl's decision is in … and his answer is NO.
From Fox News:
"A federal judge in frank terms Tuesday dismissed a lawsuit by the Democratic National Committee (DNC) against key members of the Trump campaign and WikiLeaks over hacked DNC documents…

…saying they 'did not participate in any wrongdoing in obtaining the materials in the first place' and therefore bore no legal liability for disseminating the information."
Well, there you have it: "no wrongdoing in the first place."
Democrats tried to accuse Trump and his team of theft. They said Trump was secretly teaming up with the Russians and steal DNC info.
Judge Koeltl did not agree. In fact, he issued a strongly worded decision that said the DNC's case was "entirely divorced from the facts."
In short, it was a garbage lawsuit.
And it's not criminal to take or "welcome" stolen documents, Judge Koeltl said.
This is all assuming any such stolen documents passed between Trump's team and Russia, but there was no evidence of that.
Either way, Trump and his team are innocent.
This was just another lame attempt by the DNC to push a Trump/Russia hunt through our courts.
Problem is, courts need facts and evidence … and clearly, in this case, Democrats never had either.
And I'll leave you with Trump's great response to this decision: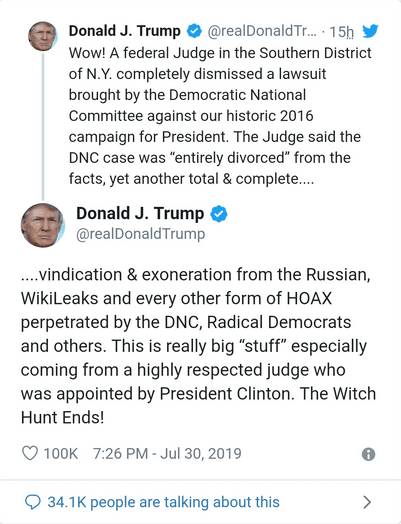 Vindication and exoneration. That's exactly what this is, Mr. President!
SHARE to let everyone know Trump is proven innocent once again!
Source: Fox News