Jim Jordan Pulls Back Curtain On Democrats – They Are Using 'New State' To Raise Trump's Taxes, Draw Lines Around His Hotel
Jordan is on fire – and he just discovered a Washington plan to raise Trump's taxes!
The Democrats have been caught regularly manipulating the system to help themselves, but this time they're really crossing the line.
And Jim Jordan has been leading the charge to hold them responsible. Yesterday we talked about how he confronted Nadler over a short report he didn't bother to read for over a week.
Now, he's talking about the latest Democrat scheme to give themselves more votes.
Apparently, liberals want to turn the D.C. swamp—a space smaller than most cities—into a full-fledged state.
They even drew a map of how it would look. But when Jordan saw the map, he immediately knew something was up.
And he called them out on it.
From Twitter: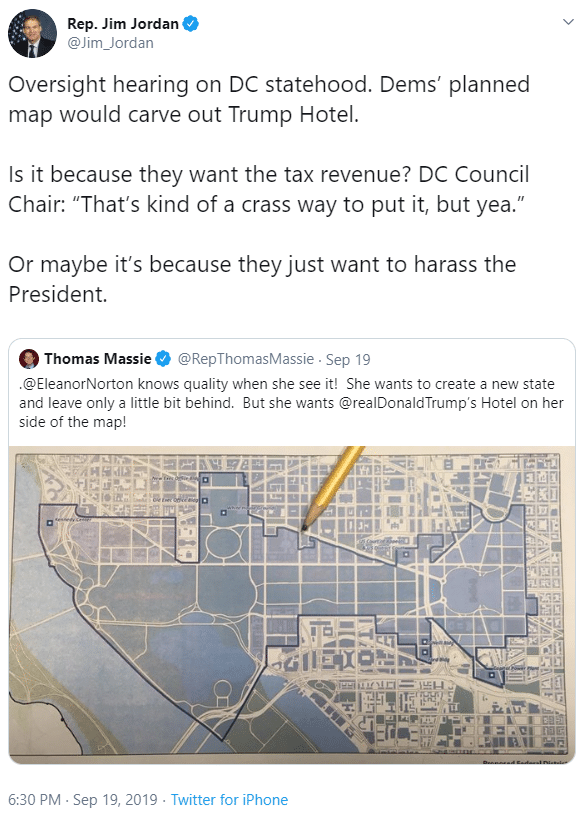 "Oversight hearing on DC statehood. Dems' planned map would carve out Trump Hotel. Is it because they want the tax revenue? DC Council Chair: "That's kind of a crass way to put it, but yea." Or maybe it's because they just want to harass the President."
This is why we need to check Democrats at every turn. If they are left to their own schemes, they will redraw the country to benefit themselves.
The idea of making D.C. a state violates the very principles of our government. The founding fathers purposely made D.C. a separate region so that it wouldn't have too much power over a state.
Today, Democrats want to make it a state so they can put two more Democrat senators into power and get more representatives in Congress.
But that's not all. They specifically drew lines around Trump's D.C. hotel so they could raise taxes on it!
Bad move, for many reasons. First, it won't hurt Trump, since he got rid of all his business connections when he became president.
Second, the rest of the country won't allow it. You can't just wave a magic wand and make something a state, and no one's going for thes.
The rest of the states have to approve. And Democrats just don't have the support.
SHARE if you refuse to let the Washington swamp become a state!
Source: Twitter