After Queen Pelosi Stalls On Trade Deal – President Trump Slams Her As The "Least Productive Speaker In History"
Nancy never saw 'The Donald' coming – she's regretting it now!
The impeachment effort doesn't seem to be going well for Democrats.
So far, even their star witnesses haven't managed to prove Donald Trump committed any crime.
There have been insinuations, rumors, and a whole lot of hearsay, but maybe not as much concrete evidence.
And while Democrats have been wasting their time with the impeachment farce, they've been neglecting their duties as elected officials of America.
For example, House Speaker Nancy Pelosi couldn't even get an important trade deal done.
Today, we learned that she failed to seal the U.S. Mexico Canada free trade deal. We needed to get this approved.
And now, because she was so slow to act, the deal probably won't get a vote in Congress this year.
It's just unacceptable!
And President Trump agrees, as he posted this scathing tweet in response: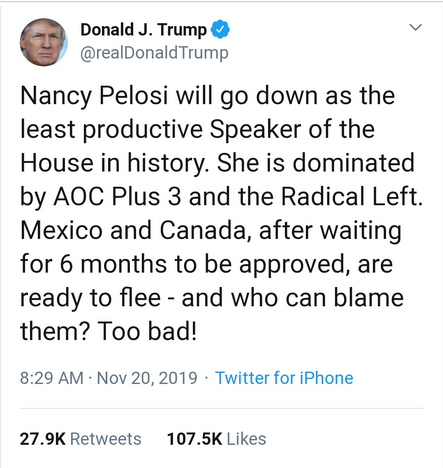 Nancy Pelosi will go down as the least productive Speaker of the House in history.

She is dominated by AOC Plus 3 and the Radical Left.

Mexico and Canada, after waiting for 6 months to be approved, are ready to flee – and who can blame them? Too bad!
Hear that, Nancy?
Trump says Canada and Mexico are just about ready to say NO to this landmark deal, and possibly because it has taken us too long.
Whose fault is that? Is it Trump's, who has worked tirelessly to get this critical agreement finalized?
No, it's Pelosi and the do-nothing Democrats, who decided to waste all their time on an impeachment inquiry that is highly questionable At best.
Now, our country might've missed out on a HUGELY positive deal … all because Pelosi and her fellow leftist politicians have done nothing!
This is what happens when duly elected officials fail to serve the people, plain and simple.
SHARE if you think Nancy Pelosi is the worst speaker ever!
Source: Twitter