Top Democrats Made Criminal Border Wall Deal – Shutdown Coverup Rocks Washington
Democrat leaders never wanted POTUS to find out!
Democrats don't want border security … they want chaos.
And the GOP is inadvertently helping the Left by trying to compromise with these open-border radicals.
Senate Majority Leader Mitch McConnell struck a deal with Sen. Chuck Schumer to delegate border talks to conference committees, which were largely run by Democrats.
And what happened?
Well, this allowed the Left to hide their negotiations and victories from Trump.
By keeping Trump out of the loop in regards to the border security issue, the devious Democrats were able to slip in all sorts of measures to help themselves and their open borders agenda.
From The Washington Post:
"Democrats, privately, were amused but made a conscious decision not to gloat — concerned that if they celebrated what they considered a victory Thursday they might anger Trump enough to veto the deal.

One conferee summarized the instructions from Democratic leaders: 'Don't poke the bear.'"
Unfortunately, the Left have every right to gloat over getting this bill pushed through.
They may have dropped their ridiculous push to reduce the number of detention beds, but they were able to, quote:
"…preserve their other gains which include many curbs on enforcement, a temporary veto on wall construction for Texas Democrats…
…and a new amnesty hidden under the guise of protection for 'Unaccompanied Alien Children.'"
The President was not properly notified of what the Democrats were plotting because the committee members who were supposed to be keeping him up to date on the bill were keeping him in the dark.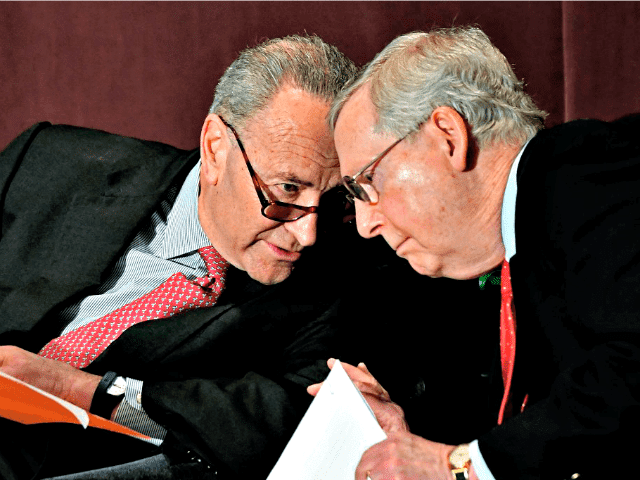 These underhanded manipulation tactics employed by the Democrats is more proof that America simply can't trust liberal politicians.
In the end, this is clear collusion against the President, and an attempt to usurp the will of the millions of U.S. citizens who elected Trump to build the wall.
This is what Democrats have been doing since Trump was elected:
Obstruct, hide, manipulate, and mislead.
SHARE if you've had ENOUGH of these deceitful tactics!
Source: Breitbart