After Democrat House Passes FISA Bill – Senators Are Begging President Trump To Veto It
The FISA courts were originally created to track down bad guys in the wake of 9/11.
But how have they been used in the last few years? Not that well, if you ask some Americans.
Democrats—through the deep state—used the FISA system to get warrants to spy on the Trump campaign.
They infringed on the privacy of American citizens. Some say to interfere with the 2016 Election.
Now, the House is pushing a bill to extend the FISA court system. And some senators are calling on Trump to act.
From Twitter: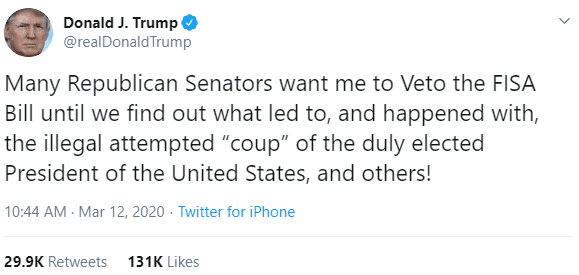 Many Republican Senators want me to Veto the FISA Bill until we find out what led to, and happened with, the illegal attempted "coup" of the duly elected President of the United States, and others!
President Trump tweeted that many Republican senators want him to veto the FISA bill. They would first rather find out how the DOJ used the court to spy on his campaign.
Trump called out the effort to monitor his campaign staff a "coup." He is no doubt citing the infamous text from FBI agent Strzok, who called the investigation an "insurance plan."
Many Americans believe the FBI and DOJ—under Obama—abused the power of the FISA courts.
Some people say they tried to spy on Trump's campaign to find dirt. All to derail his chances at winning.
Even after he was elected, we know the FBI was monitoring the transition and early days of the administration.
The Democrats were spreading the narrative that Trump worked with Russia. That was disproved by Mueller himself.
But many questions remain over the FISA courts. Why should we keep this system in place, if it can be abused so easily?
How did the FBI sway the court to issue them a warrant, even when they provided no evidence?
We know that on FBI lawyer doctored documents to get the warrant. Why wasn't that called out by the court itself?
Many questions. No answers.
Perhaps Trump should veto this bill?
SHARE to ask President Trump to veto this FISA bill.
Source: Twitter