Donald Trump Announces Major Update From The Hospital – The President Is Planning To Leave Just Hours From Now
What's Happening:
President Trump has been in Walter Reed Hospital over the weekend, and the nation has waited to hear the latest updates on the President.
When he entered the hospital, his team said he planned to work from the facility for at least a few days, depending on his care needs and improvement.
But just minutes ago, Trump personally tweeted out a major update. He's not planning on staying at Walter Reed much longer: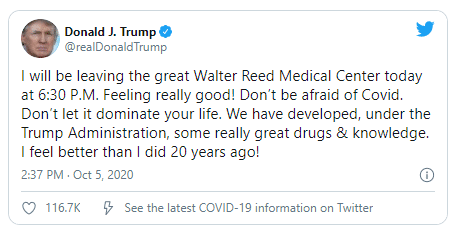 I will be leaving the great Walter Reed Medical Center today at 6:30 P.M. Feeling really good!
Sounds like President Trump is doing very well! He is going to be headed home shortly.
This most likely means that Donald is on the mend and can complete his treatment and quarantine from the White House, which has state of the art medical facilities.
Just a day before, Trump took a quick ride out of the hospital to wave to supporters who have been standing outside in support of the President.
Are you happy to hear that Trump will be headed back to the White House soon?
Key Takeaways:
President Trump announced he will be leaving Walter Reed Hospital on Monday at 6:30 PM.

He says he is feeling "really good" and is likely on the mend.
Source: Twitter