After Hillary Compares Zelensky to WWII Legend – Critics Quickly Pounce on Clinton's Reference to the Great Churchill
Ukrainian President Volodymyr Zelensky's visit to the White House has been mired in controversy from the start.
Many Americans don't like that the U.S. continues to write giant checks to aid Ukraine in its battle against Russia, especially as many U.S. citizens are struggling financially this holiday season.
And when Hillary Clinton made a questionable comparison, the social media world erupted.
For the most part, Zelensky is viewed as a hero among the left, primarily for resisting the Russian onslaught. And the Biden administration hasn't been afraid to hand over several mountains of cash.
During Zelensky's visit, Biden said they'd continue to do everything they can to aid in the war effort, which isn't what everyone in the country wanted to hear.
Unsurprisingly, though, former Secretary of State Hillary Clinton lauded the visit, and actually compared Zelensky to one of the most legendary figures in history. This quickly sparked a reaction.
It started when she told CNN's Anderson Cooper:
This was historic. Some people have compared it to Winston Churchill, who came 81 years ago and basically asked that the United States continue to stand with them after we'd been attacked, and we did.

So, there were a lot of points that Zelensky made that were quite resonant with any of us who know how hard our own struggle for freedom and the cost that we've paid to defend it over all these years actually has been.
Clinton isn't the only one to make the comparison; many members of the MSM seized on the comparison as well. But it isn't flying with everybody.
Even a news source from Ukraine questioned the comparison, highlighting the significant differences in the visit itself. For example, Churchill stayed for weeks in D.C. while Zelensky was only there one day.
Others made note of Zelensky's clothes — which one Twitter user quickly compared to Churchill: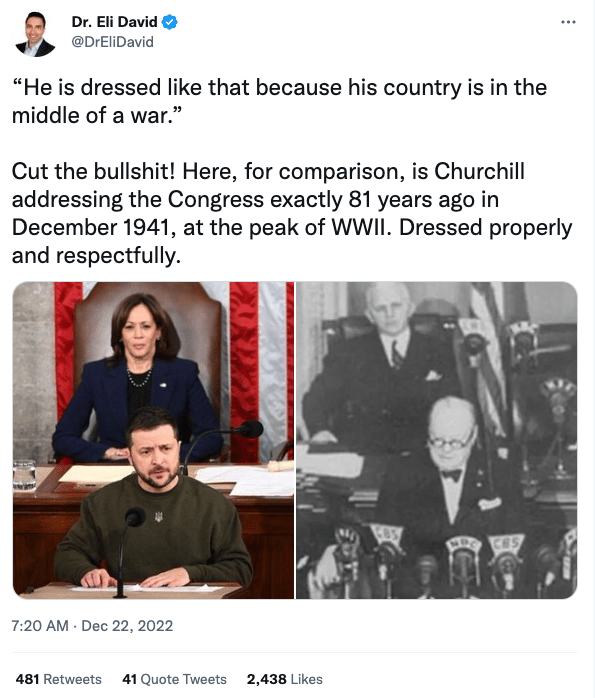 Rep. Bishop cited Pelosi's Zelensky/Churchill comparison, where she brought the battle for democracy into the argument: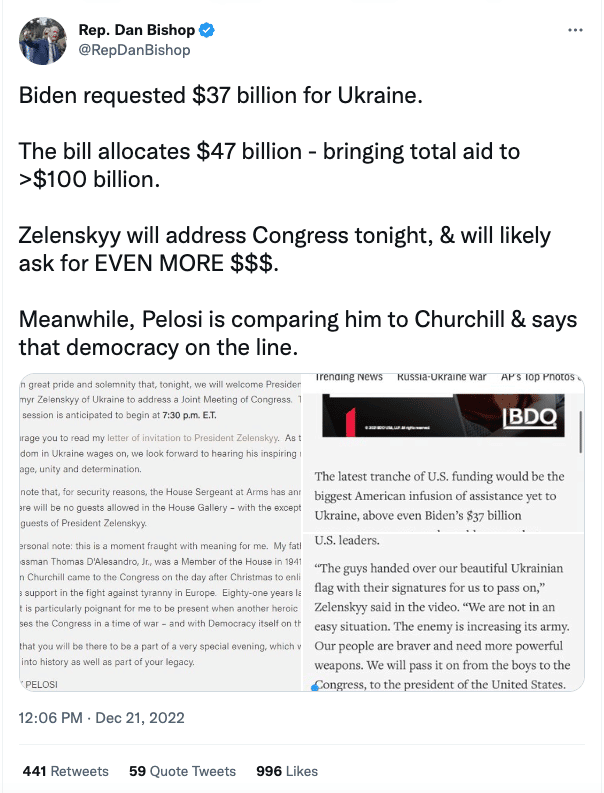 Other annoyed individuals mentioned that Zelensky isn't exactly the same type of politician, especially in regards to how he runs his country.
One Twitter user wrote:
One big difference is that Churchill wasn't a dictator. I can sympathize with the people of Ukraine, but don't support sending funds or supplies.
Many people also simply pointed out the clear and vast differences between World War II and the current Russia/Ukraine conflict, and especially in regards to America's role in both.
World War II was in fact a true world war, and America had already been dragged into it after the attack on Pearl Harbor.
The Nazis weren't merely threatening one country but the entire earth, and everyone's way of life was at stake. Churchill's involvement in that historic war is dramatically different from Zelensky's.
The visit to the White House was also different in terms of the situation, exactly what was requested, and how it was presented to the public.
But with Clinton, Pelosi, and many mainstream press members promoting it, expect more leftists to elevate President Zelensky to Churchill's position — whether he deserves it or not.
Key Takeaways:
Hillary Clinton, Nancy Pelosi, and members of the MSM are now comparing Ukrainian President Zelensky to Winston Churchill.
Critics quickly responded, pointing out major differences between the two visits to America, and most notably the differences between WWII and the Russia/Ukraine war.
Many Americans don't support the continued sending of funds to Ukraine.
Source: Breitbart