U.S. Heroes Get 1 Perfect Veteran's Day Present – And It Was Delivered in Historic Fashion
What's Happening:
People around the country often provide unique celebrations for veterans on the annual day to honor those who serve. Sometimes what was old now becomes something new for those celebrating Veteran's Day.
Veterans can spend some lonely days in Veteran Affairs (VA) medical centers, especially on the day they are supposed to be honored. One group of veterans has made an annual event of harkening back to days of old to deliver a few smiles to fellow veterans seeking medical care.
A troupe of female veterans dressed from head-to-toe in World War II-era pin-up costumes brightened Veteran's Day for patients at the West Los Angeles VA Medical Center, according to Breitbart. Pin-Ups for Vets, a nonprofit organization dedicated to helping veterans and active-duty military personnel, added some nostalgia for older retired service members.
"Sometimes a small gesture can back the biggest impact," said Gina Elise, Pin-Ups for Vets founder. "We feature female veterans as the models, and we turn them into WWII pin-ups and help them channel their inner bombshell."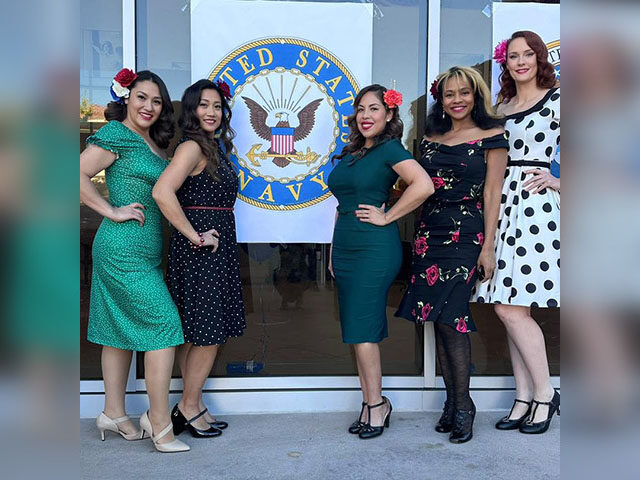 Elise explained that many veterans don't realize the ladies all dressed in 1940s attire are actually veterans. This, she said, creates a special bond from one veteran to another.
Veterans often struggle with not only physical ailments, but psychological scars as well. A little taste of that dazzling era from decades ago can go a long way to brighten the day of a veteran in need.
"They answered the call to serve," one pin-up model told the local news outlet. "They fought for our country. There's no better way to spend Veteran's Day than giving back to the veteran community."
Part of the volunteer project is to create a yearly pin-up calendar to raise money for veterans struggling with healthcare and other necessities. Funds are also used to get VA hospitals more medical equipment.
Some of the Pin-Ups for Vets volunteers have been getting all dolled up for this cause for many years and are ready each year when their call to duty arrives.
"When we go and visit, I never questioned whether we made a difference that day," said Jennifer Marshall, a Navy veteran who has volunteered with the nonprofit for the last nine years. "It's just really nice to connect with them one-on-one."
At the heart of every veteran lives the call to service and these ladies keep that passion alive through helping others with a brighter Veteran's Day.
Key Takeaways:
Veterans in the hospital receive a dazzling display on their special day.
Pin-Ups for Vets volunteers bring smiles and nostalgia to ailing veterans.
There is no surprise that these veterans are ready to keep serving those in need.
Source: Breitbart