'Hercules' Drops His Hammer On Hollywood – Democrats Left In Ruins
That came out of left field!
We are all sick of Hollywood railing against honest Americans and our president – and so is Hercules.
For years, they've lectured us on what we should believe and what we should stand for. And when we don't listen, these elitists rant and rave like spoiled brats.
But Hercules isn't standing for it any longer.
You heard me right. Kevin Sorbo of Hercules fame is tired of listening to liberal Hollywood snobs. And he's fighting back with some real common sense.
From Twitter: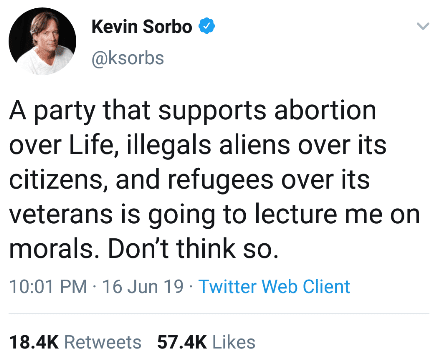 BOOM. Legendary actor of Hercules, Kevin Sorbo, utterly schooled Democrats on their wild hypocrisy.
Liberals try to lecture regular, hard-working Americans about how "immoral" we are for standing up for our traditions and values.
But they are the ones that fight against life, ignore our citizens, and neglect our veterans. It is a party that cares about everything and everyone else, except Americans.
For decades, Democrats have pretended to be the party that takes the "moral high ground." They've somehow convinced voters to support them, claiming they'd help minorities, blue-collar Americans, and others in need.
And what did we end up with? A corrupt party that refuses to address a single problem we face. Worse, they have passed laws and policies that nearly crippled our economy.
Only President Trump has been able to fight back Democratic decline.
Few in Hollywood are willing to stand up to this pack of liberals. But thankfully, Hercules ain't afraid to do it.
SHARE to thank Kevin Sorbo for boldly standing up to the Left!
Source: Twitter