After President Trump Pressures Harvard – The University Admits That Donald Was Right, Returns Federal Funds
Somehow, Harvard and other major universities got a big chunk of the relief cash meant for small businesses. Even though they sit on billions, they wanted a piece of this pie.
Even as Americans were outraged, it appears Harvard wasn't going to give back the $9 million they got from the government.
President Trump called them out and guess what happened next?
From Twitter: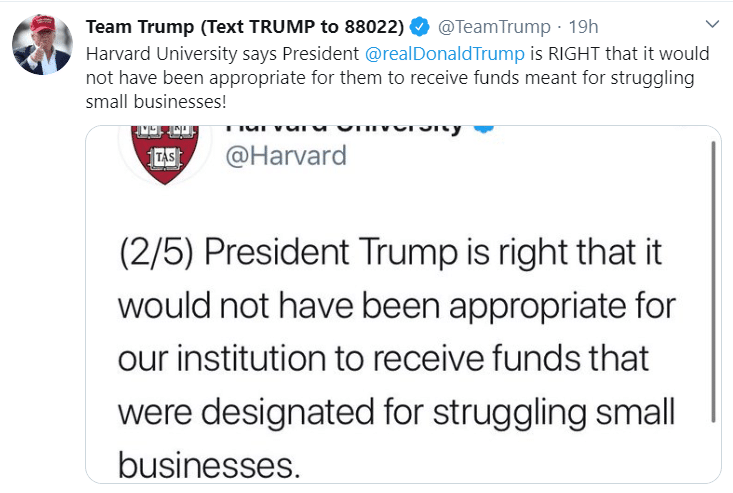 Harvard University says President @realDonaldTrump is RIGHT that it would not have been appropriate for them to receive funds meant for struggling small businesses!
Wow. Harvard's president said Trump was right, that it was inappropriate for the school to keep the funds.
He even admitted that those funds were meant for small businesses struggling to stay open.
Hmm… let me figure this out. Is Harvard a struggling small business? Uh, nope!
They are one of the largest universities in the world, with a shocking $40 billion (according to some reports) in endowments.
I'm not sure who decided they should apply for a PPP loan. Perhaps they thought they could slip in with mom and pop shops and nobody would notice?
Hey, who doesn't want free money, right? Except when that money was intended for local businesses forced closed due to the government.
Several large institutions took cash that they didn't need. Thankfully, some of them—like Harvard—saw the error of their ways and are giving it back.
But not, of course, until Trump had to get tough. During a recent presser, he suggested the country would not do something for them in the future.
That could have meant a cutback on federal grants or other funds.
Perhaps that was the trigger to get Harvard to return the cash. Either way, do you think they would have done it if Trump hadn't intervened?
Hopefully, if there are other big corporations or schools sitting on cash intended for the little guys, they'll follow Harvard's lead.
SHARE Trump's big win over Harvard.
Source: Twitter