After Harry And Meghan Plan Move To America – Trump Tells Them We Won't Pay For Their Security
You might remember that Prince Harry and his wife, Meghan, broke from the Royal Family.
I know… why should you care, right? Meghan was a frequent Trump critic. And her husband… let's say he wasn't the family's brightest star (his brother is).
Early on, their plan was to leave England for the "sunny" shores of Canada. The country is still part of the British Empire, though. It seems that wasn't far enough for the kids.
So, they recently announced they are moving to Los Angeles. Uh… really? One of the cities hit hardest by the virus?
Oh, wait. These are rich elitists who will be living in a gated mansion. So, they're not worried.
On top of that, they have security to keep the infected masses away from them. But it seems like the couple thought that the United States would flip their security bill.
Lol, that's cute. Trump had some bad news.
From Twitter: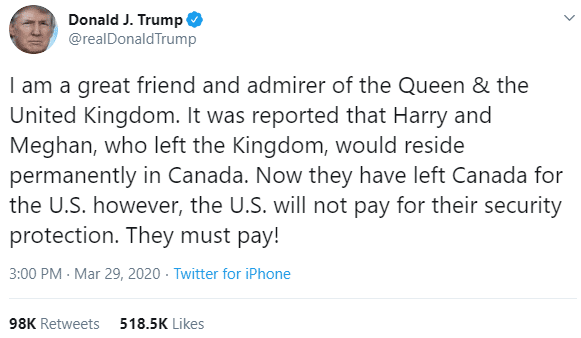 I am a great friend and admirer of the Queen & the United Kingdom. It was reported that Harry and Meghan, who left the Kingdom, would reside permanently in Canada. Now they have left Canada for the U.S. however, the U.S. will not pay for their security protection. They must pay!
After honoring Queen Elizabeth and the great nation of England, Trump made it clear that our country would not be paying for Harry and Meghan's security.
What do they think they are… former U.S. presidents?
Yes, it's true. Former presidents get to enjoy Secret Service protection for the rest of their lives. Sure, give it to them.
But a former prince and his wife? Two people who are known to dislike our president?
Sorry, kids, but you don't get any freebies.
You could have enjoyed a very nice lifestyle among the Royal Family. But perhaps Harry and Meg didn't want to do their grandmama's bidding?
They are about to learn that, outside the gilded halls of Buckingham Palace, you don't get stuff for free.
Do you think that royalty from another country should get free security here? Keep in mind, that would mean YOU'D be paying for it.
Something tells me you wouldn't like that. And neither does Trump. He's battling one of the worst outbreaks in a century. The last thing he's going to do is pay for this couple's bodyguards.
SHARE to thank President Trump for refusing to pay for their security.
Source: Twitter