After Democrat Begs Trump For $500M Bailout – Donald Strongly Tells The Minnesota Governor No Way
In recent months, Minnesota has faced numerous trials and tribulations.
After the George Floyd incident, the state suffered wave after wave of riots and protests. And the damage caused has continued to mount.
That's why Democrat Governor Tim Walz asked the federal government for help.
Walz asked for a significant sum — $500 million – to help cover the cost of those damages.
He wanted President Trump to declare Minnesota "a major disaster zone," with over 1,500 buildings damaged or destroyed in just a few weeks.
But Trump just said no.
Unsurprisingly, Walz was displeased with the decision. Here's a statement from the Governor's office:
The Governor is disappointed that the federal government declined his request for financial support.

As we navigate one of the most difficult periods in our state's history, we look for support from our federal government to help us through.
However, not everyone in the state was upset about Trump's denial of assistance.
For example, Republican Rep. Tom Emmer fully supports the decision. As he said in a letter to the administration:
If the federal government is expected to assist in the clean-up of these unfortunate weeks, it has an obligation to every American — prior to the release of funding — to fully understand the events which allowed for this level of destruction to occur and ensure it never happens again.
Various conservative voices echoed these sentiments.
Conservative author and host Mark Levin heaped praise on the President for denying Walz's $500 million request.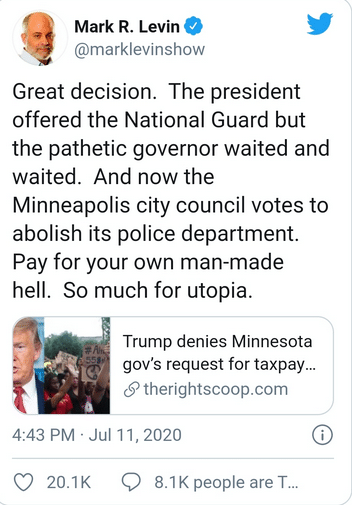 Great decision. The president offered the National Guard but the pathetic governor waited and waited.

And now the Minneapolis city council votes to abolish its police department. Pay for your own man-made hell.  So much for utopia.
Then came Team Trump senior legal advisor Jenna Ellis, who said: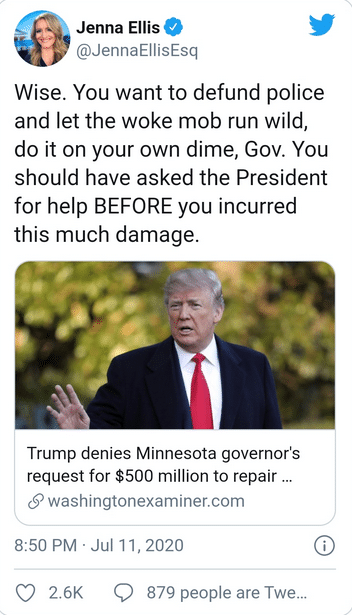 Wise. You want to defund police and let the woke mob run wild, do it on your own dime, Gov.

You should have asked the President for help BEFORE you incurred this much damage.
Protesting and rioting has certainly caused a great deal of damage throughout the country. But the Trump administration has called on local leaders to quell the uprisings on their own.
The question now is, will the government deny other requests for aid in other states?
At this point, it seems likely.
Key Takeaways:
Minnesota Governor Tim Walz asked the federal government for $500 million in assistance money.
President Trump flatly refused the request.
While Walz's office is disappointed, Republicans and leading conservative voices have praised Trump for the decision.
Source: The Daily Wire