GOP Summit Poll Reveals Landslide Winner – Almost 79% of TPUSA Attendees Said They Want Trump In 2024
What's Happening:
Plenty of people have speculated on the GOP's 2024 nominee. In recent months, some folks have claimed Trump's chances are slim.
Some (mostly people like Elon Musk and Joe Rogan, historically liberals) have put forward the name of GOP Gov. Ron DeSantis.
But the question was put to attendees of a major conservative conference. And this was the answer.
From Fox News:
Tampa, Fla.– Former President Donald Trump dominated the 2024 GOP presidential nomination straw poll at the Turning Point USA Student Action Summit Sunday, Fox News has learned.

TPUSA polled conference attendees—youth activists from around the country—who they would vote for in 2024 if Trump decided to launch another White House run…

78.7% attendees said they would vote for Trump.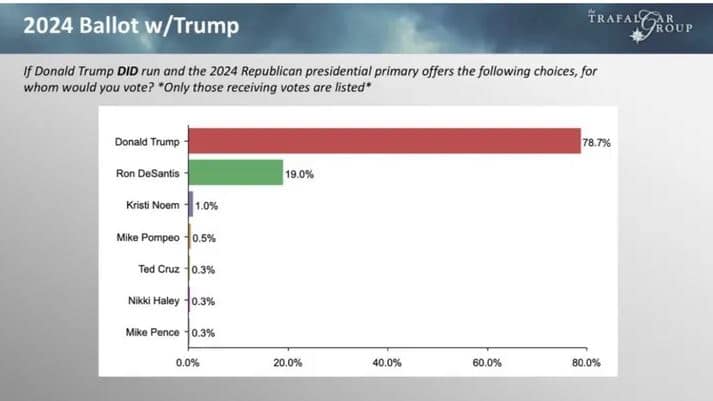 Dang, that's pretty much what we call a landslide. At the recent TPUSA convention, a major conservative event attended by college-age (and some younger) activists, a 2024 poll was conducted.
And Trump won by a massive margin, 78.7% to Ron DeSantis' 19%. Nobody else listed in the poll got even close.
Keep in mind, that the Republican Party by and large love DeSantis. He is a rising star and the most conservative governor in the entire country (more so than even Texas' Greg Abbott).
But that doesn't change the fact that a conference made of young conservatives wanted Trump, hands down.
This poll is critical because it gauges the attitudes of the next generation of leaders. And members of Turning Point USA are arguable more conservative than their parents.
This group of leading conservatives is much more America-first than some Boomers. And they are passionate about squashing socialism and preserving American liberties.
In many ways, they are a strong window into the minds of—not establishment Republicans—but everyday conservatives.
And if they are unquestionably pro-Trump, we don't have to doubt how the rest of the party will vote.
Which tells us that if Trump wants to run in 2024, the nomination is already his.
Key Takeaways:
Trump won a TPUSA 2024 poll by 78.7%.
The closest to him was Ron DeSantis by 19%.
This comes as some in the public eye wanned on a 2024 Trump run.
Source: Fox News