After Nadler Holds Impeachment Hearing – Trump's Approval Takes A Sharp Turn
Nadler is trying to impeach Trump – and it's having a big impact on Donald's approval!
Democrats in the House are determined to destroy Trump—but it looks like they're failing.
Nadler and his goons just held their first hearing, digging for dirt on Trump. We know they are far, far from impeaching him.
Even these hearings are just "inquiries" into whether they should investigate impeachment.
It's all a show to hurt Trump's reputation among the American people. Despite all the good he's done.
They tried to skewer Corey Lewandowski before the public. But the Trump ally humiliated them.
From AP News:
The first impeachment hearing held by House Democrats quickly turned hostile as their sole witness, former Trump campaign manager Corey Lewandowski, stonewalled many of their questions and declared they were "focusing on petty and personal politics."
We've never seen anyone better troll the left during a hearing than Lewandowski.
We all know the Democrats were just trying to intimidate him. Perhaps get him to say something that would hurt Trump.
But Corey's no fool. And he's no traitor to the president. After this circus, Trump's numbers came out. The left should be sweating.
From Rasmussen Reports:
… 51% of Likely U.S. Voters approve of President Trump's job performance.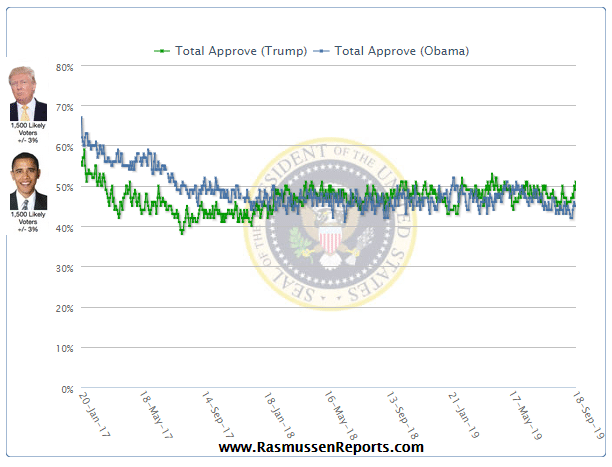 Wow. Trump's in green—look at him go! What you can't see is that Trump is polling 6% higher than Obama at the same point of their presidencies – Barack was at 45%!
Even with daily, relentless, negative news against Trump (for nearly 3 years) and constant rumors of impeachment—Trump is still on top.
He's even doing better than Obama did during the same period in his presidency.
That's saying something, given how much the left adored and propped up their "golden boy."
The Democrats must be pulling out their hair at this news. "What does it take to hurt this man!" they must be saying.
None of their tactics have been able to slow down the Trump Train.
Why? Because as Democrats waste time and money on impeachments, President Trump is defying the odds.
He really is making us great again, and it doesn't look like Democrats are putting a dent into his 2020 chances.
SHARE if you approve of Trump, not the impeachment Democrats!
Source: AP News, Rasmussen Reports