Dr. Fauci Lets His Face Mask Slip – After A Dismal First Pitch, Tony Breaks His Own Rules
What's Happening:
Plenty of Americans have gotten tired of hearing from "Dr. Doom" Anthony Fauci. After telling Americans not to wear masks in March, he's now demanding we all do.
The Washington Nationals decided to thank Fauci for all his "help" by letting him throw out the first pitch. It was a disaster:
Fauci has worked for both Obama and Trump. Who do you think he takes after?
Here's Obama:
And here's President Trump:
Looks like Trump is the most competent pitching of the group. But what was more telling about Fauci's appearance was what he did later in the game.
Looks like the good ol' doctor was breaking his own rules: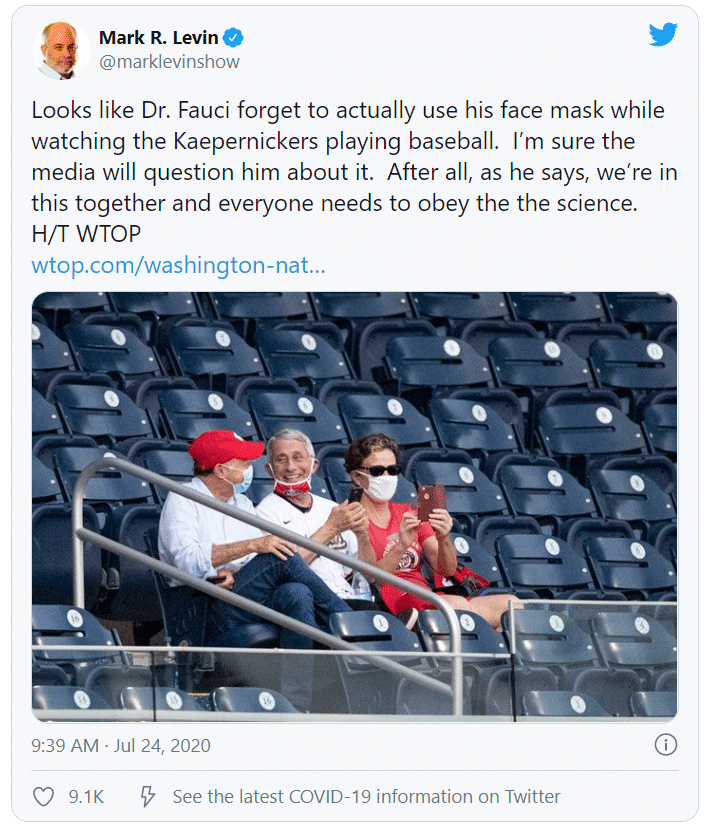 So, while Fauci was on the mound—with no one around him—he wore a mask.
But later, when he was sitting much less than six feet from people, he was seen without a mask.
Is this all just a big charade to Fauci? He has been making COVID out to be the end of life as we know it since March.
Yet when he thought the cameras were off, he was all smiles, unconcerned about "social distancing" or face masks.
Maybe those people were part of his family circle. Maybe not. But the good doctor doesn't look good when he's not obeying his own orders.
Plenty of people, including Senator (and physician) Rand Paul, have questioned what Fauci's said since the Spring.
Fauci has been one of the toughest talking heads on COVID, even dismissing the economic disaster of lockdowns as "inconvenient."
But should Americans be listening to this man—when he doesn't follow the rules?
In D.C., you can get fined for $1,000 for not wearing a mask in public? Will the mayor go after Fauci?
Something tells me, no.
Key Takeaways:
Anthony Fauci threw the first pitch at a Washington Nationals game.
He was seen later not wearing a mask in the stands.
Fauci has been questioned again and again over his gloomy pronouncements during the pandemic.
Source: YouTube, YouTube, YouTube, Twitter