Elijah Cummings' Last Act Slips Out – But It Turns Out His New Subpoena May Have Been Forged
Something's wrong with that signature, Elijah!
This week, Congress lost one if its longest-standing members. Maryland Rep. Elijah Cummings died, after suffering years of failing health.
Even President Trump offered his condolences and prayers to his friends and family.
While the Democrat was a fierce critic of the president, few could argue he was working for the country.
In fact, while on his literal deathbed, the man was signing subpoenas. But a few people have taken a closer look at them and there could br something very wrong.
From Biz Pac Review:
In what was described as "one of his last official acts," CNN said that hours before his passing, Cummings signed two subpoenas and the signatures sparked a controversy of its own…

Yet, a signature on a linked document tweeted by Yashar Ali, a contributing writer for New York Magazine and The Daily Beast, is entirely different. The document is dated September 30, 2019.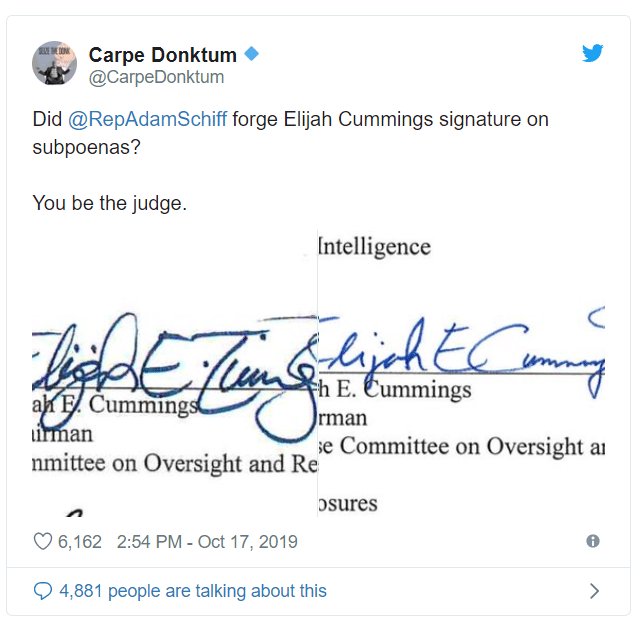 According to numerous outlets, Cummings was signing several subpoenas before he passed away.
But a few journalists have taken a look at the documents and compared them to documents he signed earlier in the year.
There is a clear distinction between both versions of signatures. In fact, if you compare the signatures, you see they are radically different.
Some might say forgeries happen all the time in Washington. But when it's a congressman's very last signature, it gets a second look.
It's hard to say what was going on. Did an aid sign these instead? Were these rushed, because they knew the congressman's health was failing?
Could this simply the fact that, as sick, dying man, his signature varied—as his strength failed?
There's no way we could know for sure. Only those present at the acts can say for sure. But what are they saying?
These documents might have been forged. That would be unacceptable. Why let the last act of a celebrated congressman be marred by forgery?
This should warrant investigation, for sure.
SHARE if you want this investigated!
Source: Biz Pac Review