Drudge Predicts The Democrat Nominee – Now Trump Should Be Feeling Very Confident For 2020
Matt Drudge knows who's coming out on top – and Donald's pretty happy.
Matt Drudge rarely makes announcements or predictions, so when he does America listens.
Remember, this is the guy who—once upon a time—broke the Clinton/Lewinsky story. To this day, his website is one of the top-read in the world.
It's one of the reasons Democrats aren't a fan of him. And why Americans are eager to hear what he has to say.
Now, he's predicting the 2020 Democratic nominee. Looks like he's pretty confident.
From Twitter: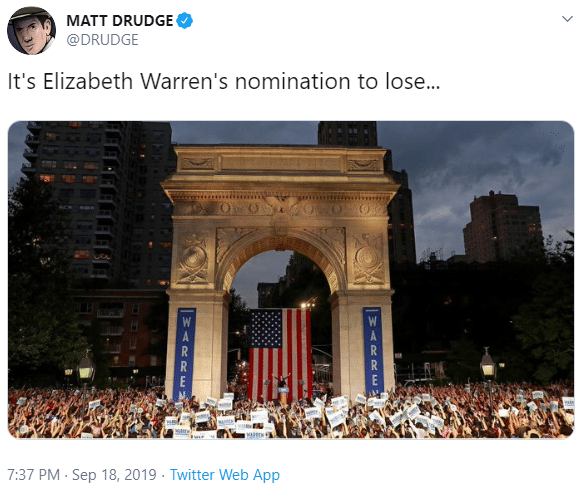 It's Elizabeth Warren's nomination to lose…
According to Matt Drudge, it's Warren's nomination to lose.
It's really hard to predict how Democrats will vote right now. I mean, all the nominees are struggling.
There hasn't been this little enthusiasm for a Democrat candidate since John Kerry.
If you look at the picture Drudge posted, though, it looks like Warren can muster up a few eager people to attend her rallies.
But they're not as big as what she claims them to be. And they don't come close to what Trump brings in.
The fact of the matter is, if Warren does get the nomination, we think Trump's a shoo-in.
This is the woman who pretended to be a Cherokee to get into college.
A woman who had to be rebuked by the Cherokee Nation after pushing her DNA results.
The same woman who was chided by Stephen Colbert when she refused to admit he'd raise taxes on the middle class.
A Democrat who lacks the energy and authenticity to compete in a campaign, let alone run the country.
Just listen to her speak. She sounds like an annoyed professor lecturing us on what we're doing wrong.
No thanks, lady. We'll stick with the guy who lowered taxes, built the wall, and is putting Americans first.
If Matt Drudge is right—and she gets the nomination—2020 should going to be a big win for Trump.
SHARE if you think Trump will beat Warren in a landslide.
Source: Twitter