After Donald Mourns Loss Of Trump Supporter – Joe Biden Blames The Incident On The President
What's Happening:
Over the weekend, protesters on both sides clashed in Portland, Oregon. The city has been suffering from riots for three months straight.
During the chaos, a man identified as a Trump supporter was shot and killed.
According to reports, his name was Jay Bishop, a member of Patriot Prayer.
President Trump himself commemorated the man:
Rest In Peace Jay!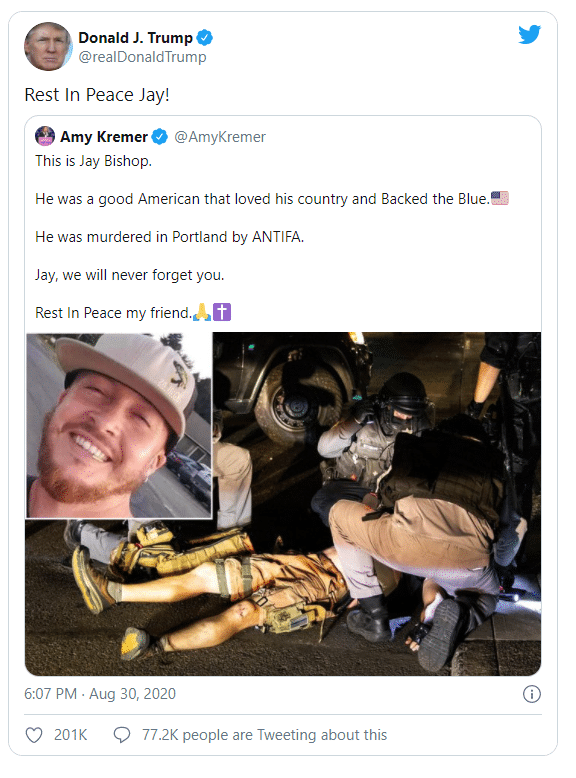 Joe Biden felt he needed to chime in too. He offered his condolences, but as his statement dragged on, he actually blamed the president and the victim:
As a country, we must condemn the incitement of hate and resentment that led to this deadly clash. It is not a peaceful protest when you go out spoiling for a fight. What does President Trump think will happen when he continues to insist on fanning the flames of hate and division in our society and using the politics of fear to whip up his supporters?
Joe Biden appears to be blaming the episode of violence on Trump, who he said is "fanning the flames of hate and division."
Ironically, Biden doesn't call out the months of rioting and looting in the name of social justice and "Black Lives Matter."
He only seems to call out violence, when it ended in the death of a Trump supporter.
Like most Democrats, he appears to be turning a blind eye to the reckless destruction that has ended up hurting thousands of Americans.
Instead, Biden blames the man who lost his life—suggesting that interrupted a "peaceful protest" to start trouble.
Yet it won't take you long to find photos, footage, and testimonials of what has been going on across American cities since May.
Very little of it has been peaceful. American livelihoods have been destroyed. Many black lives lost.
Cities on the brink of total disaster.
Biden ignores all that to blame a Trump supporter for the actions of the radical left.
He claims to be against violence, yet he does nothing to support the police and call on governors to restore law and order.
Key Takeaways:
President Trump honored a Trump supporter who was killed in Portland.
Joe Biden condemned the man, blaming the violence on Trump.
Biden, like most Democrats, continues to ignore riots caused by leftist activists.