After Deplorables Post Squad Billboard – 2 Of The Ladies Pitch Royal Temper Tantrum
They flew off the handle – but the store owner had an epic response!
Remember, fellow patriots:
You only get to enjoy freedom of speech if you're a liberal. At least, that appears to be the message Democrats are sending.
Because when a gun shop posted a billboard mocking the now-infamous "Squad," two of those Squad members totally flipped out.
Have you seen it yet?
The billboard refers to the 4 freshman Congresswomen as "The 4 Horsemen Cometh," and adds the word "idiots" for good measure.
Well, as you might expect, the liberal reactions centered on the wrong thing entirely.
One of the "Horsemen," Rep. Rashida Tlaib (D-Mich.), said this about the billboard: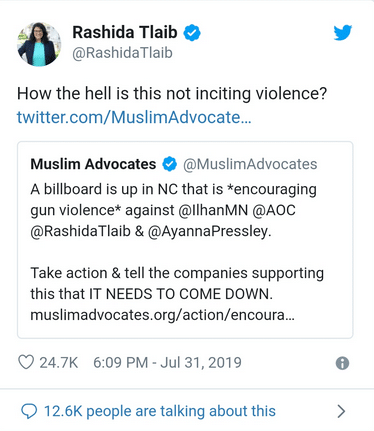 Of course, the billboard doesn't call for that. It simply calls her and her cohorts "idiots."
I suppose she's making that leap because it's a gun shop.
But they're clearly not.
Rep. Ayanna Pressley (D-Mass.) took another approach: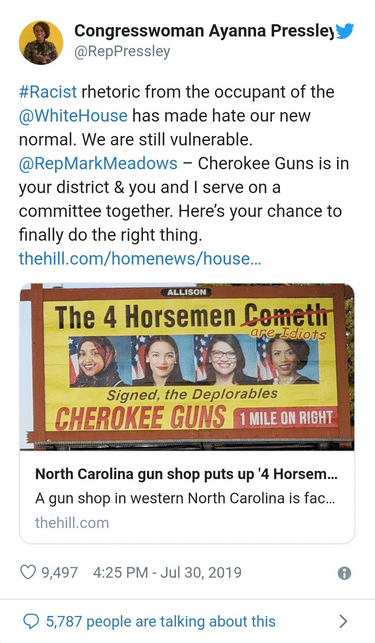 Well, she can say that if she wants. But how is that in any way true?
Nope. Not seeing that, either.
Yes, it's insulting but some of the disgusting insults all four of these women – and other Democrat leaders – have thrown at President Donald Trump have been FAR worse.
Let's not forget that part: they can say whatever they want about Trump, but any insults going the other direction aren't allowed.
No matter what side you're on, these are just words.
And that's exactly what store owner Doc Wacholz said in defense of his billboard. As he told CBS 17 WNCN-TV:
"I don't care, words don't harm me.

'You come on my property and try to harm me here? There will be trouble."
He's even giving away a free bumper sticker of the four horsemen billboard image, provided a customer eats a slice of bacon and says they'll vote for Trump in the 2020 election.
How's that for a reply? I think it's priceless.
And again, the whole world is supposed to dismiss the awful things Democrats say about Trump, but say anything back, and … well, we know the drill.
What do you think?
SHARE to support this store owner's freedom of speech!
Source: The Blaze