Trump's Top Opponent Just Dropped Out 2020 – It's The End Of The Road For Her
One down…!
Yes, the race to earn the Democratic nomination for the 2020 presidential election has tightened considerably in recent months.
Top dog Joe Biden has plummeted in recent polls, while competitors Elizabeth Warren and Bernie Sanders have risen.
And now, the Democrat field just got a little smaller.
This Democrat – one many conservatives just love to hate – has definitely made things easier for the rest of the field.
Sen. Kirsten Gillibrand (D-NY) is officially done.
From CNBC:
Sen. Kirsten Gillibrand, D-N.Y., dropped out of the 2020 presidential race Wednesday, ending a campaign weighed down by fundraising problems and a lack of public support.
And here was the kicker:
Gillibrand failed to qualify for the third Democratic debate, and it seems like that was the clincher. She's out.
And it's great news for both Trump and America-loving patriots, honestly.
Here's what Trump had to say: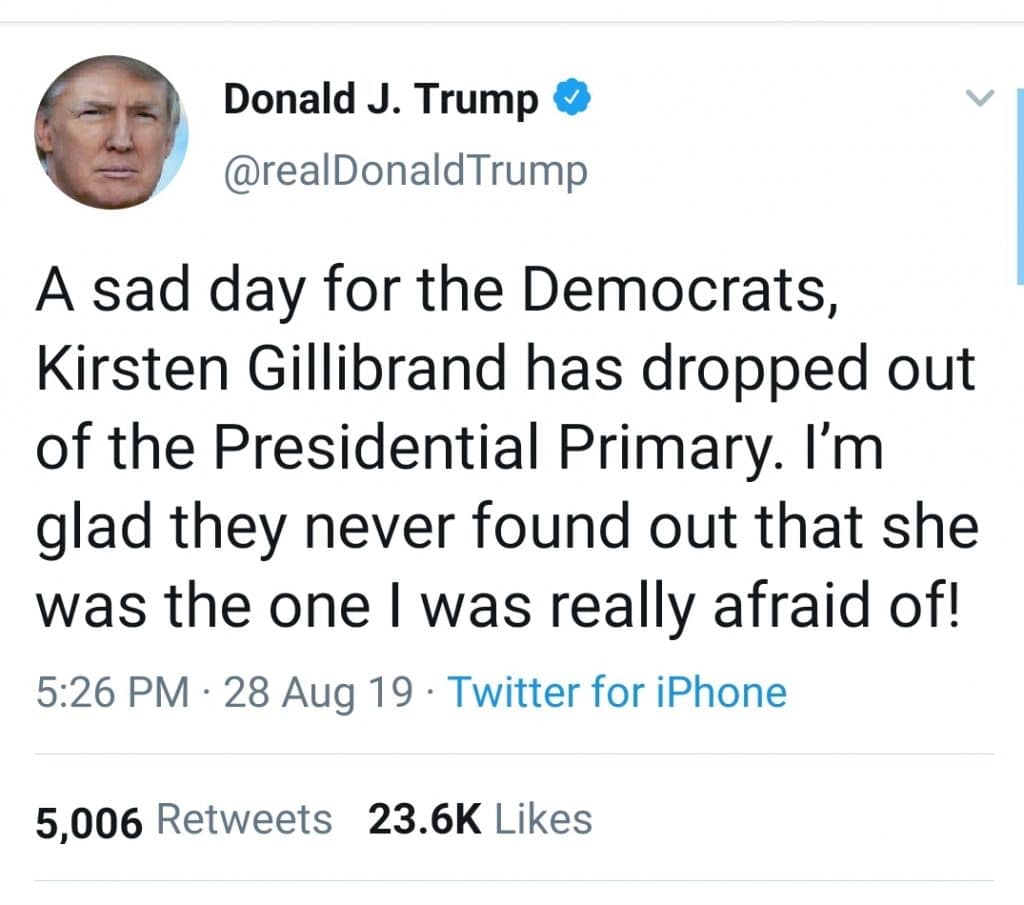 Wow – pretty impressive to be called Trump's top opponent!
Gillibrand was one of those far-left candidates that this country really doesn't need.
She's a definite anti-Trump politician and in fact, she voted against more of Trump's nominees than any Democrat in the Senate!
Ironically, she once ran as a fiscal conservative … but in recent years, she switched and became a full-on liberal.
At one point, she was against amnesty for illegal foreigners, for instance, but since then has pulled a total 180 … and it was NOT a good idea.
Additionally, though she had $10 million remaining from her 2018 Senate run, it just wasn't enough.
And she had a lot of trouble raising any money for her presidential campaign, as we've noted in the past.
In the end, it all added up to this: no chance.
Gillibrand ended her bid polling at less than 2 percent according to the RealClearPolitics average.
One top Democrat down, a few more to go … I wonder who the next one will be to bow out. Any guesses?
Who do you think will be the next Democrat to drop out of the 2020 race? SHARE your guess!
Source: CNBC