Hours After Democrat Debate Debacle – Trump Drops His Presidential Anvil On The Entire Field
Well, the last Democratic debate before Super Tuesday went off without a hitch!
Oh wait, I was wrong. It was a total disaster.
The moderators for CBS did a terrible job of maintaining order. The candidates (who want to be president, by the way) acted like angry schoolchildren.
They shouted over each other, attacking at every turn. They looked like a far cry from competent leaders who should be running the country.
In the end, Bernie won by default. Why? Because nobody did well enough to knock him out.
But Trump had some painful words for all of them.
From Twitter: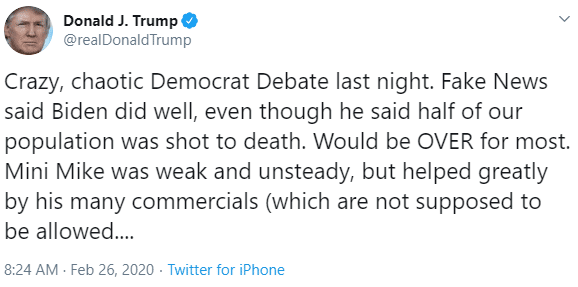 Crazy, chaotic Democrat Debate last night. Fake News said Biden did well, even though he said half of our population was shot to death. Would be OVER for most. Mini Mike was weak and unsteady, but helped greatly by his many commercials (which are not supposed to be allowed….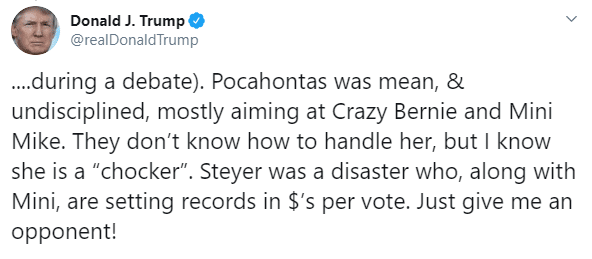 ….during a debate). Pocahontas was mean, & undisciplined, mostly aiming at Crazy Bernie and Mini Mike. They don't know how to handle her, but I know she is a "chocker". Steyer was a disaster who, along with Mini, are setting records in $'s per vote. Just give me an opponent!
Ouch. The president torched the Democratic debate, calling is "crazy" and "chaotic." He pointed out when Joe Biden claimed "150 million" Americans have been killed by guns since 2007.
Yeah, that number's a bit off, Joe.
On top of that, Trump pointed out how Mike Bloomberg was able to air campaign ads during the debate. On the same network.
Hey… doesn't that seem like a conflict of interest? I guess CBS doesn't turn down money, huh?
The president continued to roast his Democrat rivals. He called Warren "mean and undisciplined."
And he said Steyer was a disaster.
In the end, Trump just asked the left to give him an opponent. This primary circus has been going on for so long.
Just pick someone who can lose to Trump, already!
Oh, does that sound biased? Can anyone find a Democratic candidate that has what it takes to unseat Donald Trump?
After last night's debate, we're not sure these guys can even tie their shoes by themselves!
SHARE to tell Democrats they don't stand a chance against President Trump.
Source: Twitter