Days After Trump Tackles Coronavirus – Americans Weigh In On Donald's Handling Of It
It's no secret how hard President Trump's been working to battle this crisis.
His task force, led by titan Mike Pence, has been at it night and day for a long time. Every day they hold press conferences, updating the country.
You really got to hand it to these guys. They have just about the worst job a person can have, right about now.
Yet every last one of them is pulling their weight. Especially the president.
He has been strong, confident, and determined through it all. He has not shown a sign of weakness or even fatigue.
Compare that to some of the state and local leaders, who appear ready to drop!
Thank your lucky stars that Donald Trump's in the White House—not Sleepy Joe, Crazy Bernie, or Crooked Hillary.
And it seems like Americans are feeling the same way.
From Twitter: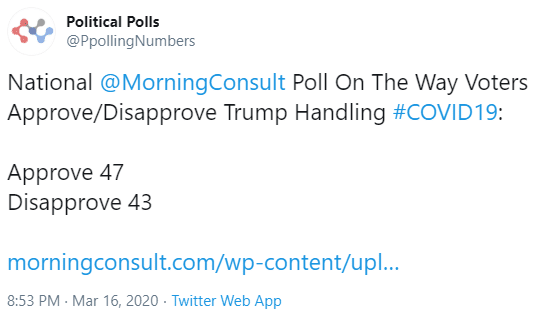 National @MorningConsult Poll On The Way Voters Approve/Disapprove Trump Handling #COVID19:

Approve 47

Disapprove 43
According to a recent poll, 47% of Americans approve of how Trump's been handling this crisis.
That's pretty high, considering the massive uncertainty of the situation and the continued negative news from the MSM.
I'd like to sit down and talk to those who disapprove of Trump's performance.
Oh, would you like to be in his situation, right about now?
Do you know a better plan to battle this invisible enemy? Would you take the hit for closing the border to Europe, proposing massive stimulus packages, and urging an entire nation to hunker down for 15 days?
Yeah, something tells me few people are envying Trump's job, these days. I bet even Hillary herself is looking at this and maybe is a little happy… she's not in the White House (as she sends nasty tweets).
The bottom line is we will come out of this crisis in time. But how fast we recover depends entirely on the president.
Trump is not taking any chances. He is trying to make important decisions, and he doesn't need millions of people thinking they could do better.
That's why we elected him in the first place.
SHARE if you approve of Trump's response to the COVID-19 crisis!
Source: Twitter