Days After Biden Becomes Presumed Nominee – New 2020 Poll Versus Trump Takes 9-Point Turn
Joe Biden has all but locked up the Democratic nomination and now things are taking a big turn.
Polls claimed Trump was behind when many Democrats were fighting for the nod. We can't bank on these polls 100% (remember 2016?), but they give us a small window into what's going on.
Now that it looks all but certain that Biden will be the left's guy, one poll shows a big 9-point swing.
From Fox News:
According to a new Fox News Poll of registered voters, the incumbent president and presumed Democratic nominee now tie with 42 percent support apiece.

Some 16 percent would vote for a third-party candidate or are undecided.  Trump's 42 percent support is, by a narrow margin, his highest ever against Biden, while Biden's mark is his lowest by far.
Impressive, Donald! Here's what Fox's polls have looked like over the last few months: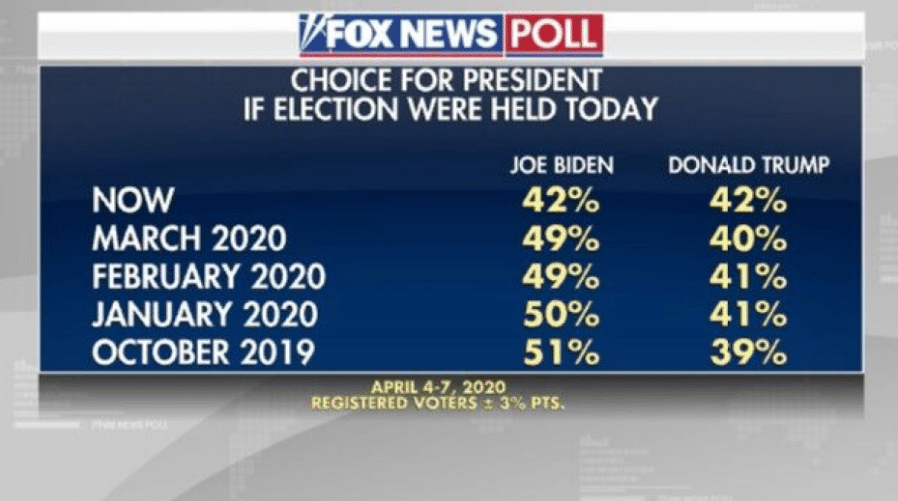 A Fox News poll, which has historically been bad for the conservative candidate, claims that Trump and Biden are tied.
And just a month ago, it said Biden was leading Trump by 9 points. Hard to believe, I know.
We all know how inaccurate these polls can be. Although Fox News is considered a "conservative" outlet, their polls have consistently been bad news for Trump.
They were predicting his loss all through the 2016 Election. How did that turn out?
We can't say for sure why or if these polls are inaccurate. But it's telling that this poll—which always seems bad for the president—is now saying he's tied with Biden.
You can speculate what the real numbers look like, but there's clearly a swing towards Trump.
And we think we know why Trump is swinging up against Biden.
First of all, he's the incumbent. We've watched as Trump's led this country for nearly four years.
He's restored America's strength and prosperity. Even during the pandemic, he's been a daily presence, offering guidance and hope to the country.
Many are predicting the economic hit we took over March will be reversed quickly, thanks to Trump's leadership.
During this time, what have we seen from Biden? Not much, to say the least. The only "help" he's offered during this crisis are recommendations Trump has already done!
Recent TV appearances by Joe bring more doubt than confidence. Many are wondering if the man has what it takes mentally to lead the country.
And that's not to mention scandals the liberal media don't want you to know about.
When looking at all that evidence, which man would you prefer be in the White House?
SHARE if you want Trump to beat Biden—bigly!
Source: Fox News