After Impeach Cuomo Billboard Goes Up In New York – His Own Attorney General Calls For Investigation
What's Happening:
Woah. If you haven't been keeping up with New York's Gov. Cuomo, you got to get a load of this.
He was exposed weeks ago by a top aide over a supposed cover-up. She revealed they hid the number of nursing home deaths to avoid an investigation.
That quickly lead to both Republicans and Democrats calling for an investigation, perhaps impeachment.
Now it seems some private citizens are agreeing:
From NBC 13:
There's a billboard along 787 in Albany calling for Gov. Cuomo's impeachment.

The owner of American Shooter Supply, Brian Olesen paid for it.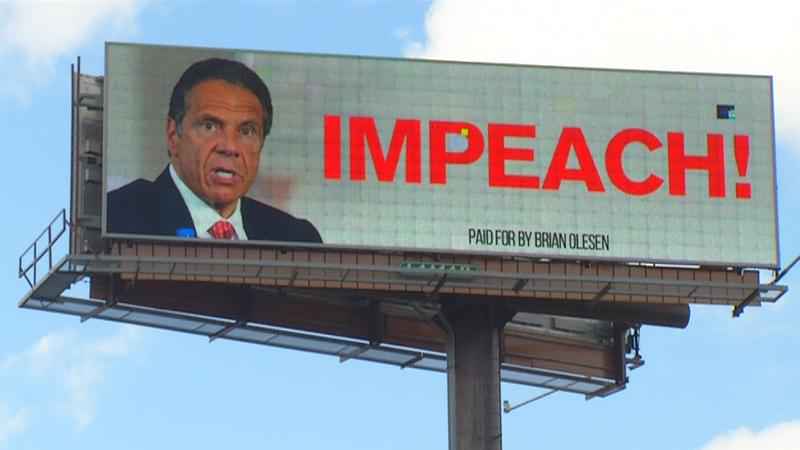 Soon after, allegations came out from two former staffers of inappropriate behavior. These women are accusing the governor of harassing them.
The man himself has refused to admit his wrongdoing, although he was forced to "apologize." Now, his own attorney general is taking the lead… against him.
From Fox News:
Cuomo agreed to be subjected to an investigation, but that led to controversy when he first appointed former federal Judge Barbara Jones to lead the probe. Jones was a former law firm colleague of former Cuomo aide Steve Cohen. Following criticism over this pick, Cuomo's office announced the selection of Court of Appeals Chief Judge Janet DiFiore to work with New York Attorney General Letitia James to select an independent lawyer for the probe.
Do you believe Cuomo actually tried to lead his own investigation against allegations made against him?
That sounds like something a South American dictator would do–not the democratically-elected governor of a state.
Yet this is how Cuomo apparently leads his entire office. Accusations claim he intimidated and threatened lawmakers.
He apparently harassed women in his office, with little signs of remorse. And apparently, he covered up deaths to hid his own mistakes.
When it was announced that he wanted to pick his own investigator, the state's AG chimed in, rejecting it.
Although they might not want to do it, New York's Democrats are obligated to investigate the governor. And New York Republicans are going to make sure it is an honest and transparent investigation.
What's shocking is how Cuomo continues to act defiant, as if he thinks he's above the law.
He just might find out if that's true.
Key Takeaways:
Pressure grows against Cuomo, as a billboard is erected in support of impeachment.
The governor tried to appoint his own investigator.
The state AG rejected that idea and is leading the case.