Court Threatens CEO With Jail For Oversized Flag – His 4th Of July Response Inspires American Patriots
They're trying to take down his American flag – but he's willing to do anything to stop them.
The 4th of July is a special time for Americans to show their patriotism. Not to mention the brave men who gave their lives, so we could be free.
Everyone should be proud on this day, right? Wrong.
One patriot is getting attacked for simply flying the American Flag over his business. The cronies in his local government want him to take it down.
He refused. Now, they might throw him in jail!
From Biz Pac Review:
Legal immigrant and self-made millionaire, Camping World CEO Marcus Lemonis is standing his ground and risking jail time in defiance of a court order to take down an over-sized American flag at one of his RV outlets in Statesville, North Carolina.
And what did he say? Just a few powerful words:
"When veterans show up at the stores for the flag raisings and do their veteran rides, they weep at the bottom of the flag pole. That's the conviction I need to say it won't come down. I would rather go to jail.
Wow. He's willing to go to jail to fly a big, beautiful flag. And there is a possibility they could send him to jail.
Marcus Lemonis is a legal immigrant and self-made millionaire. This true patriot started with little and grew a successful, thriving business.
He is a prime example of the American Dream. And a man who truly loves this country. So, it's no surprise he wanted to fly a great, big American Flag over his business.
But because the local government is ignoring his patriotism and demanding him to take down the flag, he's facing jail time.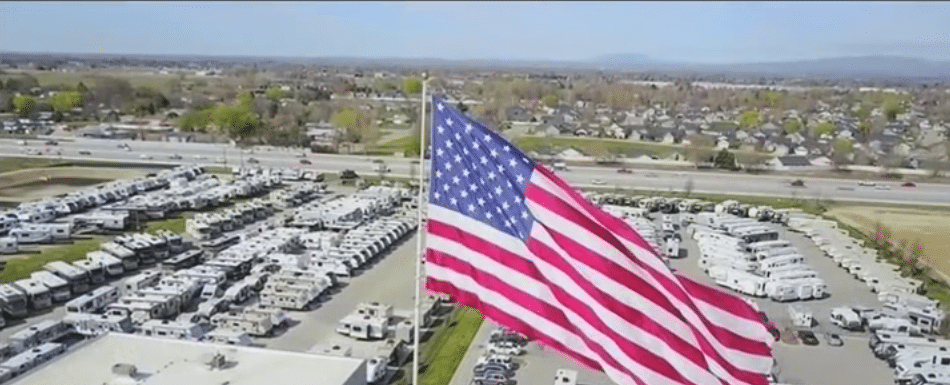 Let's be honest: he's in trouble because cronies in the local government don't share his patriotism.
He's flown that flag over his business for years. Only recently did they pass an ordinance specifically meant to outlaw his flag.
And when he asked them to change the law, they had no discussion and decided to keep the law in place because the flag would distract drivers. Really, folks?
What kind of Americans would try to deliberately prevent a patriot from flying a flag?
Lemonis was adopted from Lebanon. He came to this country legally and is thriving, thanks to his hard work and American opportunity.
He—more than anyone—should be able to show his patriotism. This city doesn't agree.
Now, he might go to jail—simply for loving the United States.
Meanwhile, Democrats do more and more to help outsiders who refuse to follow our laws. It's outrageous.
And he needs our support, or he could pay big fines and even end up in jail.
SHARE if you support this patriot—and his big, beautiful American flag!
Source: Biz Pac Review