Trump Announces He's Just Hours From A 'Major Decision' On Terrorist Strike
Terrorism will not be tolerated.
That has been the mantra of the Donald Trump administration since he took office, and it includes all innocents around the globe.
Syria should understand this vow by now.
Last year, after an alleged sarin gas attack on civilians, Trump's team sent a bevy of Tomahawk cruise missiles into the heart of a Syrian airfield.
And now, after Assad apparently ordered yet another chemical weapons attack outside Damascus that killed dozens of civilians, our President is ready to act again.
That evidence can be seen in the form of a giant U.S. Navy destroyer, which has reportedly entered waters near Syria.
As for Trump, he's very, very close to a "major decision" and yes, Syria and Bashar al-Assad should be worried.
Via Breitbart: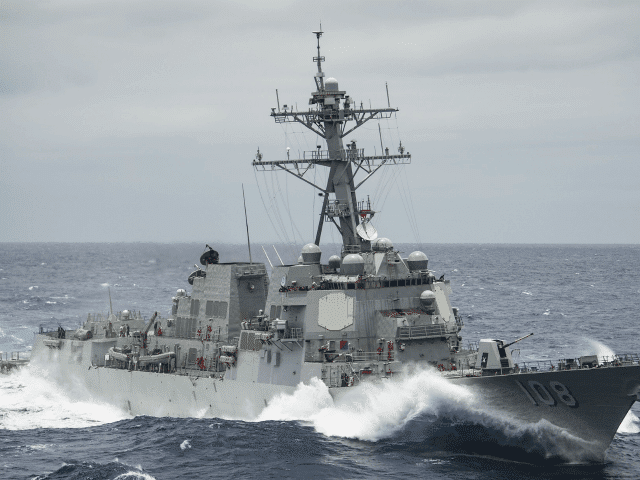 "Nothing is off the table. We are making a decision with respect to what to do with the horrible attack on Syria.
It will be met, and it will be met forcefully. I won't say when, as I don't like talking about timing.
We're going to make a decision tonight, or very shortly after, and you'll be hearing the decision."
Our allies seem up for a confrontation, if it comes to that:
Politicians in the U.K. are urging British Prime Minister Theresa May to help the U.S. eradicate Syria's chemical weapons stores, and French president Emmanuel Macron also supports a military action.
On the other hand, Russia has warned there will be "grave repercussions" if Syria is attacked, saying Assad hasn't used chemical weapons at all.
Trump isn't buying it, though, and clearly isn't frightened by Russia's stance. The bottom line is this, according to Donald:
"We can't let atrocities happen.
In our world, we can't let that happen, because of the power of the United States, the power of our country, when we can stop it."
Slaughtering innocents isn't something the U.S. should ever allow, and Trump understands this perfectly.
Source: Breitbart