Cookie Poll Predicts Landslide In Swing Pennsylvania – By A 6-1 Margin, Joe Biden Gets Outsold By Trump
The battleground states will likely decide the 2020 presidential election, which is why everyone is eagerly anticipating the voting results from those states.
One such state is Pennsylvania—Donald Trump or Joe Biden could gain a significant edge by taking this major battleground area. And one recent poll says Donald wins easily.
However, this survey uses an unorthodox method of sampling the populace:
Cookies!
Lochel's, a family-owned bakery located in Hatboro, typically sells cookies that support each candidate. In fact, they've held this unofficial poll for three presidential elections running.
Interestingly enough, the cookies have been right each and every time.
And this time, the tasty treats point toward a landslide victory for Trump (via Fox News):
Lochel's, a family-owned bakery located in the town of Hatboro, tells Fox News that the shop's Trump-themed cookies are 'vastly' outselling its Biden-themed cookies by a margin of almost 6 to 1, with some customers driving from neighboring states in order to get their hands on the treats.
Bakery owner Kathleen Lochel said they planned to tally up the total number later today but so far, they've sold about 28,000 Trump cookies … and only about 5,000 Biden cookies.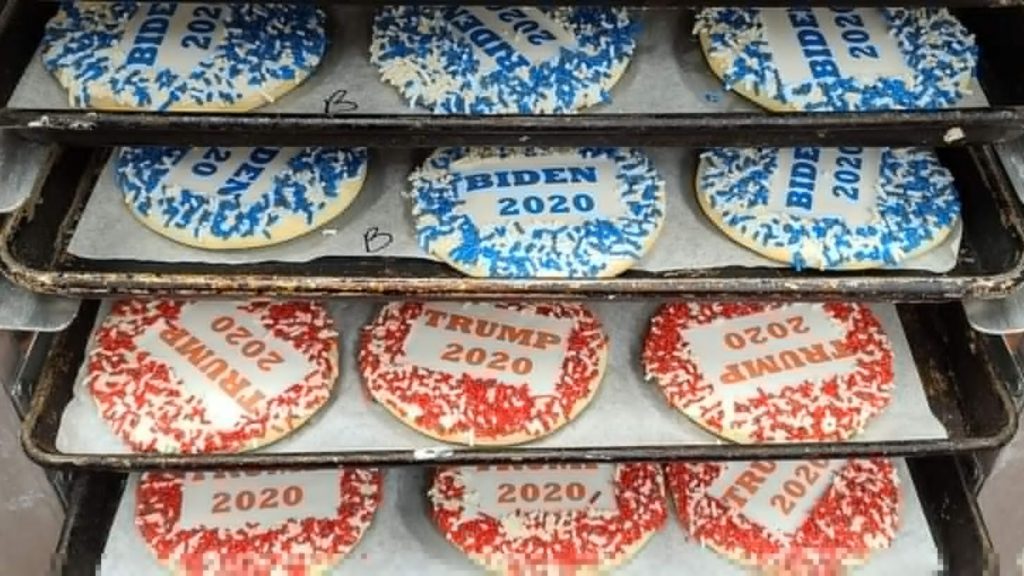 Kathleen said they started the cookie poll "as a joke" back in 2008 but it really caught on with customers.
And this time around, they're selling more than they've ever sold before. "This is definitely by far the busiest we've ever been," Kathleen said.
Furthermore, she doesn't intend to take a break any time soon. Because after the election, her bakery is going to start whipping up "celebratory" cookies to honor the winner.
As for why this fun poll is so popular, Kathleen had this to say:
I think people just love that they're participating in something.

It brings people together, regardless of the Democrats or Republicans.
Maybe that's exactly the attitude we need to embrace in this country moving forward, regardless of who wins today.
With mass civil unrest sweeping the nation throughout 2020, it seems we all want a return to peace and solidarity.
But are the cookies correct yet again? Will Trump be re-elected? And how will the left react if it happens…?
Key Takeaways:
A bakery in Pennsylvania holds a "cookie poll" in honor of the 2020 presidential election.
Trump cookies are currently outselling Biden cookies by a 6-1 margin.
This cookie poll has correctly predicted the winner in each of the last three presidential elections.
Source: Fox News