Conservative Group Launches Supreme Court Blitz – 14 Democrat Districts Get Targeted Over Court Packing
Republicans around the country are fighting against the alleged Democrat attempt to pack the Supreme Court.
The Biden administration is examining the possibility of expanding the number of court justices, which the GOP argues will give Democrats a big edge.
And one Conservative group just made a big move to stop it.
A group called The American Action Network (AAN) is going after 14 congressional districts controlled by the house.
This group has just one goal: to launch a series of ads targeting progressives that want to "seize control of the court."
The ad blitz will be spread throughout the districts in question, and will include everything from digital ads to phone calls.
Via Fox News:
The ads … will be seen in House districts with Democrats who are potentially vulnerable in next year's midterm elections, when Republicans hope to win back the majority in the chamber they lost in the 2018 midterms.

AAN will also launch phone calls in those 14 districts, as well as in the districts of 34 other House Democrats.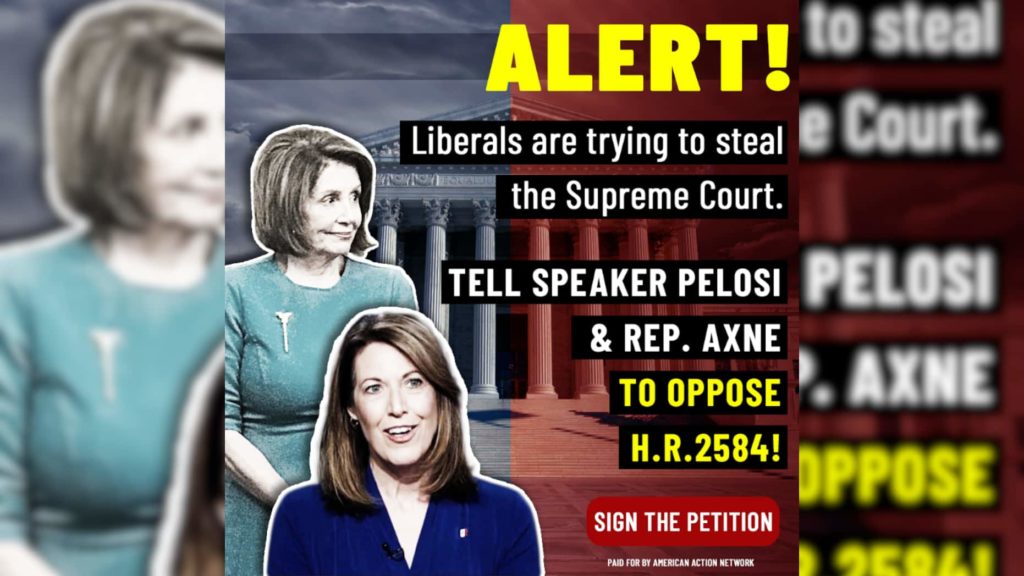 ANN is a conservative advocacy group also wants you to check out the Preserve SCOTUS website.
Democrat politicians keep pushing a bill that would expand the Supreme Court justices to 13, which could in turn give them a huge advantage.
Republicans often argue that this is nothing more than a political power grab, and goes against many years of American tradition.
The GOP has been hypersensitive to potential power moves by Democrats.
And perhaps rightfully so: it appears to many right-wingers that their rivals continue to push for more influence on Capitol Hill.
And it's not just a matter of influence; it appears to be a push to essentially eliminate all forms of opposition to Democrat rule.
That's really what Conservative citizens around the country worry most about.
Key Takeaways:
A conservative group wants to stop the Democrat attempt to "seize control the court."
They're launching an ad blitz that targets "potentially vulnerable" Democrat House districts.
Republicans view this court-packing attempt as a chance for Democrats to gain unprecedented power in D.C.
Source: Fox News