After Congress Thought Trump Surrendered – Donald Goes 'Full-Throttle' On A Comprehensive Border Shutdown
Democrats thought he backed down – but Trump's going full speed ahead.
President Trump has been shaking up the Washington swamp more than usual this week.
He's even catching his own party off guard. He promised to close the border if Mexico did not stop border jumpers immediately.
The D.C. elites and the liberal media flipped out. TheyTrump would cause major harm to our economy.
It looked like Donald was backing down—but NO! He's going 'full-throttle' with a powerful response. From Twitter: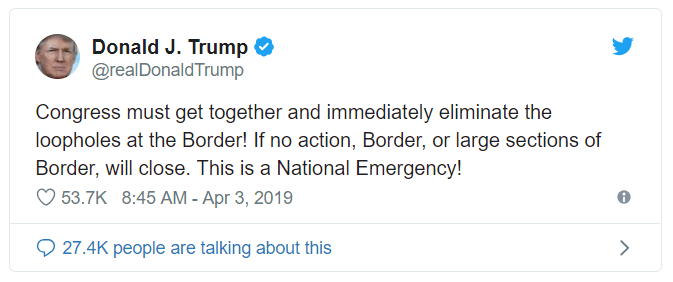 Here's what Trump said: "Congress must get together and immediately eliminate the loopholes at the Border! If no action, Border, or large sections of Border, will close. This is a National Emergency!"
Go TRUMP!
Trump is not backing down. He is demanding Congress get rid of loopholes like "catch and release."
And he's willing to go through with a comprehensive border shutdown—if that's what it takes.
Why would Trump be willing to take the hit to our economy by closing the border?
Because we are seeing a full-blown crisis on our borders.  If our border is overrun, we don't have a country.
Don't you agree?
Democrats don't even seem to care what happened on our border. One 2020 candidate actually wants to decriminalize border crossings.
Trump, on the other hand, is thinking of Americans first. He is putting our safety ahead of politics to stop this crisis.
Our only hope, it seems, is Trump taking hard action, and he needs America's support to do it.
SHARE if you would support Trump shutting it all DOWN!
Source: Twitter