After City Demands American Flag Removed – A Fearless CEO Has Americans Cheering
This American business owner took matters into his own hands!
Across America, there are patriotic folks who love expressing their support for our nation.
But—to the shock of many of us—one of those Americans is being attacked by his own city.
They are demanding that a private business owner take down his big, beautiful, American Flag.
I know what you're thinking: "WHY?"
Well, the city is suing the citizen, on the grounds that the flag is "too big" and it violates a city ordinance. But this man is not going down without a fight.
And now, this patriotic CEO has launched a brilliant plan to save his flag.
From Western Journal:
[Statesville, North Carolina] has filed a lawsuit intent on taking down a large U.S. flag from high atop a private business … and they're demanding over $10,000 in fines at the same time…

But Lemonis and his company aren't relenting.

Instead, they've turned to social media and online petitions to show the city council just how much support there is for the massive flag."
Flag size, weekend noise back on Statesville Council agenda. https://t.co/cxCuRFdU2Z pic.twitter.com/vOzvQnNdkf

— Record and Landmark (@statesville) October 1, 2018
Can you imagine what kind of people are on the city council of Statesville?
They are actually wasting time and taxpayer dollars to sue a man—who simply loves his country.
Want to know the real kicker?
Lemonis, the CEO and flag owner, isn't originally from America: he was born in Lebanon and came to America after being adopted.
He, more than that city council, knows how wonderful this country—and its people–really are.
He simply wants to show his love for America—to everyone in the city.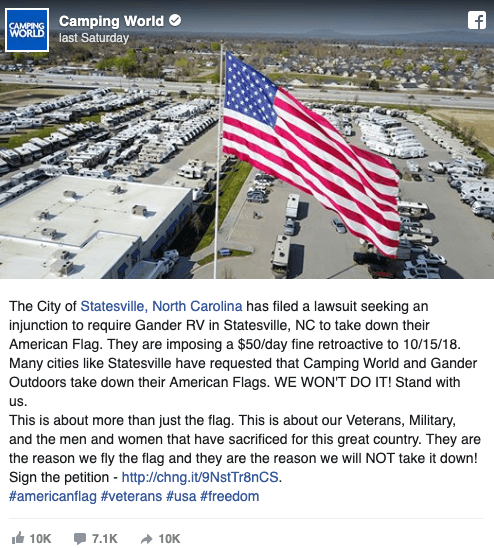 And obviously, plenty of people agree with him, because Lemonis' social media campaign has already accrued over 200,000 signatures on his petition.
Make no mistake: Lemonis isn't doing anything offensive or illegal. He's not endangering customers or residents.
In fact, he seems to have the support of thousands around the country.
SHARE if you stand behind this CEO and all flag-owning patriots!
Source: Western Journal