After China Throws Out American Journalists – Donald Trump Drops His Presidential Anvil
Things are different in a communist nation. How?
Well, freedom of speech isn't respected. They don't treat it as a right, and the Chinese are  lucky if the government doesn't completely repress ALL speech on a certain subject.
That appears to be what the Chinese government just did:
They heavily restricted American reporters and journalists who are trying to cover the coronavirus outbreak.
Then they took an even bigger step, and outright banished some reporters from the country!
Yup, this is what happens when you attempt to inform the public in a world where communism reigns.
However, the Trump administration isn't going to take this lying down.
The National Security Council issued a strongly worded reply to China's actions–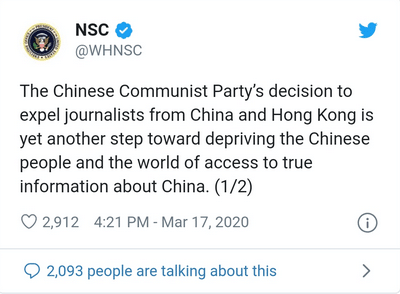 Here's the rest of the message: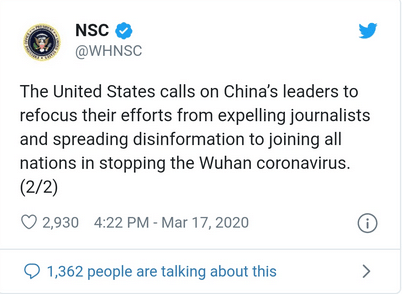 The Chinese Communist Party's decision to expel journalists from China and Hong Kong is yet another step toward depriving the Chinese people and the world of access to true information about China.

The United States calls on China's leaders to refocus their efforts from expelling journalists and spreading disinformation to joining all nations in stopping the Wuhan coronavirus.
In other words, stop hindering free speech and start focusing on the problem!
And the NSC isn't the only one responding. Donald just did directly. From CBS News:
"I'm not happy to see it," the president said. "I have my own disputes with all three of those media groups. I think you know that very well, but I don't like seeing that at all. I'm not happy about it at all."
Ok, Trump, we're glad you're not happy about it. But we would love to see you do something about it, right?
China says these actions are retaliation against the Trump administration. They didn't like when Trump put caps on the number of Chinese journalists working in the U.S. last month.
To me, that's a poor excuse.
You're willing to risk more public problems because of spite? Now you're stopping the world from learning more about a virus that originated in your country?
China also claims that the U.S. has subjected Chinese reporters to "growing discrimination and politically-motivated oppression."
This isn't political. This is an epidemic that we're trying to fight. China should NOT be making this political, nor should they be so sensitive.
After all, yes, the virus did originate in that country, and we're allowed to say it did.
Everyone should be working together to fight it, right? But the Chinese communist government apparently doesn't want that.
Sounds like a communist regime to me, that's for sure…
SHARE if you think China should never have banished reporters from its country!