After Chicago Mayor Orders Citizens To Stay Home – Days Later She Promptly Walks Out To Get A Haircut
Why does it feel like politicians and celebrities always get special treatment?
During this crisis, you would think that everyone had to abide by the "stay at home" order.
But I guess Chicago mayor Lori Lightfoot doesn't practice what she preaches.
She has been urging citizens of her city to stay home, and she obviously supported that state order.
However, not long after that … she goes out to get a haircut!
In most places in this country right now, nobody can get a haircut. So how come the mayor can? Does the order not apply to her?
From CBS Chicago:
Chicago Mayor Lori Lightfoot defended her decision to get a haircut despite urging citizens to stay at home in accordance with the state order.

But a few days later, a photo surfaced of Lightfoot with a woman who claimed to have given the mayor a haircut — after the statewide 'stay-at-home' order was given.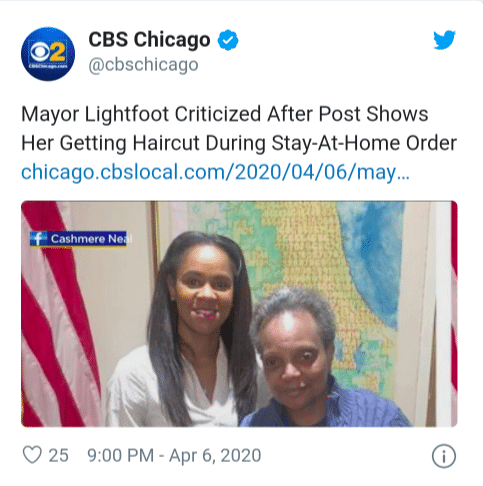 What's that all about?!
Lightfoot defended the move, though. She said she "takes personal hygiene very seriously," and she felt the need to get a haircut.
Wait, so what if a regular citizen takes personal hygiene just as seriously? Are THEY allowed to get a haircut?
And the mayor claimed the stylist wore a mask and gloves while trimming her hair.
But I don't see either person wearing any protective items in that picture, do you? And they're certainly closer than 6 feet.
To me, this feels more like a "do as I say, not as I do" situation.
And I'm willing to bet that a LOT of Chicago residents are a little miffed right now…
SHARE to show everyone what the Chicago mayor was up to!
Source: CBS Chicago