After Blind Boy Paints Picture For Trump – He Opens His Mailbox To Find A Personal Letter From The President
There's just something so heartwarming and uplifting about a young man overcoming the odds.

And if that young man is also an ardent patriot, well … that's a bonus!
So much of today's news is dark, depressing, and just downright draining. From violence to hate to politicians screaming at each other … it's just tough to absorb, you know?
Our President faces so much negativity (and even outright abuse), so it's great to see someone who loves this country and its leader.
That's why I latched onto this positive, inspiring story, like a drowning man reaching for a life preserver.
This life preserver came in the form of Gage Hogue, a blind, autistic patriot who is an inspiration to every American citizen.
Gage, a young man from Cobb County, Georgia, is mostly non-verbal and needs lots of help on a daily basis.
But with the aid of his "Paw-Paw," Gage managed to create something absolutely astonishing… even the President was impressed!
A beautiful painting of the American flag.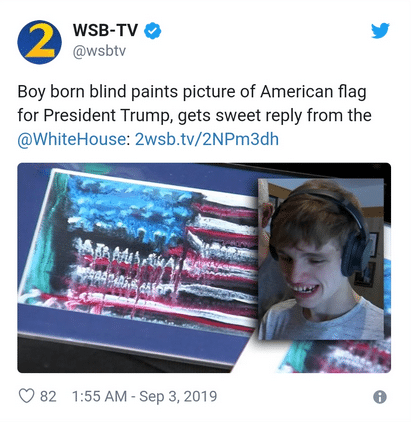 It's hugely imaginative and perhaps even a little symbolic; the flag appears to be "crying" and that's why it's called simply, "The Crying Flag."
Said his grandfather, Randy Hogue:
It really excites him to think he achieved something. Everybody knows he didn't paint it on his own. But it's his painting.
But little did Randy or Gage know, the excitement was just beginning…
They were so proud of their accomplishment that they mailed a copy of "The Crying Flag" to the White House.
Now, people mail things to President Trump all the time and of course, most don't get replies. After all, POTUS is a busy guy.
But Donald and his staff wasn't about to let this incredible gesture go unnoticed.
The White House sent back a personal response from Trump, and I guarantee this letter will be treasured by the Hogue family for many years to come.
The letter, which was written in both ink and Braille, reads: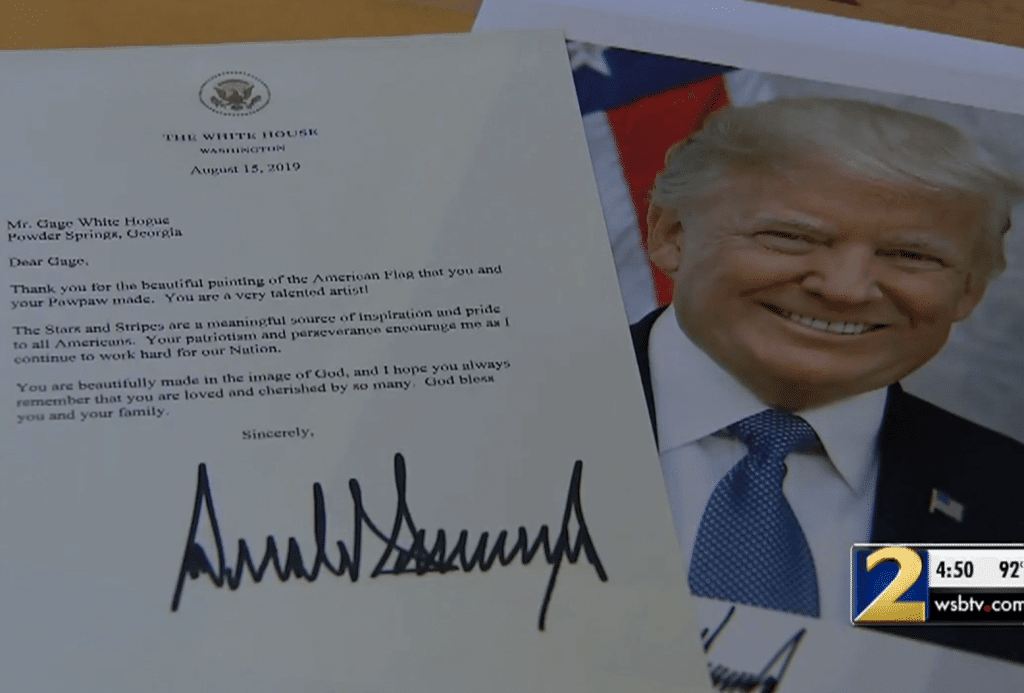 Dear Gage, thank you for the beautiful painting of the American flag that you and your Paw-Paw made. You are a very talented artist!

You are beautifully made in the image of God. I hope you always remember you are loved and cherished by so many.
How's that for a presidential pick-me-up?
And all of a sudden, friends and family want to buy a copy of Gage's painting, too!
Patriotism and pride come in all shapes and sizes, and can be felt by absolutely anyone. So what if Gage is blind and autistic?
He clearly has a Red, White and Blue soul, and it came through beautifully in that painting.
Furthermore, while I constantly see endless attacks on Trump – and especially on the kind of man he is – I also see evidence of a kind, compassionate, and appreciative leader.
So from front to back, this is a feel-good story that makes the world seem a little less dark … and a lot more encouraging!
If your friends need a smile today, SHARE this fabulous story with them!
Source: Breitbart